News/Views
Fujifilm today announced the not-so-secret GFX100S and X-E4 cameras plus several new lenses (for both GF and X mounts). 
The big news is (literally), of course, the 100mp GFX100S. Actually, it's also the small(er) news, as the two big pluses to the new camera are that it's much smaller than the original GFX100—which has an integrated vertical grip—and it has a lower cost. Most of the rest of the camera is very similar to the more expensive one I reviewed last year.
It's that price, US$5999, that probably is the big news with the GFX100S. That's US$4000 less than the original GFX100, and only US$500 more than the 50mp GFX50S. With Sony already offering 61mp in a full frame body at US$3500, it seems to me that Fujifilm is trying to drive a price stake in the ground that forms a ceiling for the upcoming higher spec full frame cameras. 
Yes, higher pixel count full frame is coming. Canon is rumored to be thinking in the 100mp range themselves, Nikon is targeting 80mp, and Sony's next plans aren't yet clear, but are likely to be in that same range. Can you sell a US$5000 full frame body with a high pixel count when a medium format one is available at US$6000? We might actually see that fight.
Meanwhile, some differences that account for that lower price include no drive, ISO, metering, or exposure compensation dials. We do get six custom C# settings on the Mode dial, which should prove useful. Strangely, the UX design definitely evokes Nikon here (button+dial).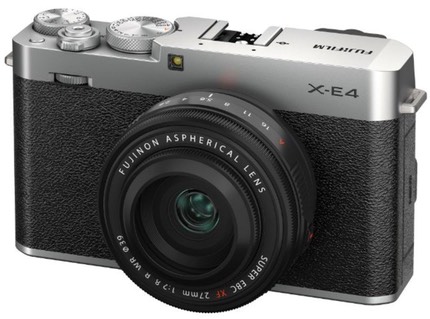 Near the other end of the buying spectrum, the Fujifilm X-E4 re-exerts the offset EVF, rangefinder-style body in the APS-C lineup. I'm not a big fan of doubly offset viewfinders—SLRs are singly offset—as when you're following erratic or fast motion you're not only not any axis of the action, but you also have most of the mass on one side of the axis. With long telephoto lenses, that can start to be a problem. 
Of course, the X-E4 isn't really designed for that kind of work. Still, I'm not really understanding the difference between the X-E4, X-S10, and the inevitable X-T40. Yes, the X-E4 just became the smallest X camera in the main lineup, but is that enough to justify it?
Even with the downsize, I'm not really understanding the difference between the X-E3 and X-E4. Yes, I know that one was 24mp with minimal video capability and the newer one is 26mp with higher video capability. I guess I can understand why an EX-2 user might want to upgrade, but I suspect a lot of those folk have already picked another Fujifilm APS-C camera to update to.
In terms of lenses, we get three new ones:
GF 80mm f/1.7 — a very welcome fast, slightly long, normal lens for the GFX cameras.
XF 27mm f/2.8 Mark II — oh dear, now we're marking lenses, too ;~). New is an aperture ring and weatherproofing.
XF 70-300mm f/4-5.6 — another very welcome lens that helps give some telephoto choice to the X mount user base. 
Sony today announced their most expensive camera yet, the Alpha flagship Sony A1.
The short bit: 50mp at 30 fps via an Exmor RS stacked sensor and dual Bionz XR processors. The A9 type of no blackout, fast refresh. using a 9.44m dot viewfinder. Yes, 8K video (up to 30 minutes with heat management).
Basic marketing tag: the only camera you ever need, the one that does it all.
Sony threw pretty much everything at their new top-end camera. Read the A1 specs to see just how much that really is, but effectively the Alpha 1 puts the ball squarely in Canon and Nikon's court to respond (and they will before the end of the year, probably sooner). 
You're probably now seeing why I've been writing about 8K and 45mp being a new bar you have to pay attention to. I'll be writing about what this new camera means more generally soon.
That said, one of the more interesting aspects of the camera is the Xperia Pro smartphone hookup (about time). The US$2500 phone is not just 5G capable, but features a 4K HDR screen and HDMI in, plus fast camera connections (including FTP via USB). Sony is really the only one of the camera makers that can make this kind of link directly and control the full stack of things being done; the other camera makers would have to link up with a smartphone maker to do some of the same things as the Alpha 1 and Xperia do together. And every high-end camera should be doing that, which is something I've been saying for 13 years now. This smartphone hookup is the only thing that I'm not sure how Canon and Nikon will respond to.
It struck me in reading a number of comments recently that people aren't exactly seeing camera pricing correctly. Part of that has to do with on and off again instant rebates and older generation bodies still littering the market. 
Since we're in a period of relative quiet in terms of rebates at the moment, I thought it might be wise to show where things really are in terms of current model mirrorless camera pricing and make a few comments about that. Here's what I see today (ignoring a few Panasonic instant rebates still in effect):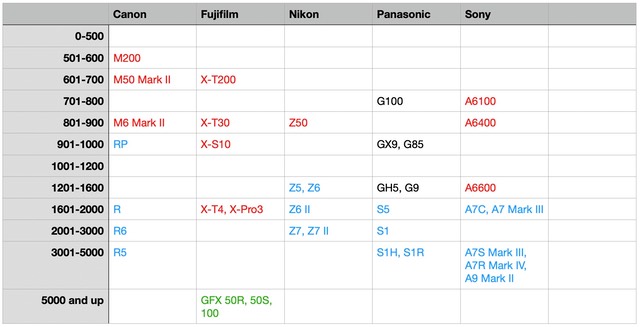 I've left out OM Digital Solutions for the moment, as it's unclear what will be happening even short term with them. Moreover, as part of the transition, there was a temporary change from subsidiary to distributor that's still skewing immediate pricing.
In terms of the Big 3 (Canon, Nikon, Sony), it's actually quite interesting. Canon is skewed lower in price (other than the R5/R6), Sony is skewed higher in price (three models above US$3000), and Nikon is somewhere more in the middle. Nikon's "middle" is skewed high middle, though. 
Meanwhile, the challenge for Fujifilm is to compete against Canon and Sony in crop sensor, but Fujifilm's top models actually price out higher than entry full frame. Sony is using crop sensor to protect the <US$1600 camera market. The Panasonic G's other than perhaps the GH5 all seem a bit too high-priced to me (though many are on discount at the moment still, probably because they don't sell at list price against that larger sensor competition). 
The mirrorless camera market has been flat in volume for the last four years, stuck within spitting distance of 4m units/year. Thus, any loss of market share (Fujifilm, Panasonic, and Sony all have had some during that period) is not a sign that your strategy is compelling against the competition. Indeed, I'm not sure any of the camera maker's strategy at the moment is truly compelling: as I noted many years ago, we have more players fighting in the smaller pool than ever before. (DSLR was the bigger pool until this year, and it had only two viable competitors.) 
Some things to note:
There's a big gap in the Canon full frame pricing. I fully expect Canon to fill that gap.
Nikon's full frame is tightly grouped. I expect them to move higher, and maybe lower, by expanding the lineup.
Sony's full frame lineup has a strange gap in the US$2000-3000 range. I expect them to spread their models a bit better in the future.
APS-C is US$500 to US$2000. I'm not convinced that the two ends of that range are going to be long-term productive. Sony is better positioned than Canon and Fujifilm if I'm correct.
As we start 2021, I'm now tracking nearly 250 current lenses from the camera makers alone, plus an almost identical number from third-party lens makers. Call it 500 mirrorless lenses that are available to you new today. 
Now obviously not all 500 of those are available in all mounts, and there's a ton of duplication—I'm not even going to try to count all the 35mm focal length lenses—so for your particular camera there might not be quite such an absurd range of choice.
In the film and DSLR world, something around 60 lenses from the camera maker and another three dozen from third parties pretty much sated lens demand in each mount. Call that 100 lenses each in the EF and F mounts. 
We've already far surpassed 100 lens choices in the Sony E mount. Ditto m4/3. But would you believe that we're already up to 61 lens choices in the Nikon Z mount? And let's not get started with what happens when you put a mount adapter on a mirrorless camera.
And yet I keep hearing "we need more lenses." 
No doubt there are some gaps in virtually all the mounts, but I'd judge only a few of those to be critical. When I look at the known Road Maps and sort through the rumors to find the most likely ones, the number of critically missing lenses is going to reach zero soon, maybe even this year. 
Moreover, quite a few of the mirrorless lenses we've received in recent years are arguably "the best XXmm ever made." I see that in some lenses from Canon, Nikon, Olympus, and Sony, for sure, but I also see it in a few third party lenses, too. 
Recently, while trying to review the Z-mount "normal" lenses (50mm f/1.2, 50mm f/1.8, and 58mm f/0.95) I found myself sort of staring at great, greater, and greatest. All three of those lenses simply blow away what I was used to with film and DSLR versions. 
So what exactly is it that we're still looking for in lenses? (On bythom this week I've got an article entitled "Looking for Mr. Goodgear" that examines the bigger gear picture.) 
I'm starting to wonder. As I look at all the mirrorless mount options, I'm finding that there are camera and lens sets in virtually every one that I could easily live with for my work. That's absolutely true for the full frame mounts, but it's pretty much true for any of the mounts, particularly if I'm willing to use the maker's lens adapter to also use their DSLR lenses.
The bigger problem for this site is that I can't possible review every lens that comes along. I'm falling behind just trying to to do that with one mount, let alone seven active mounts. Thus, I'm going to have to make some tough decisions this year about which lenses I pick, and why. The generic me-too type lenses aren't likely to get as much attention from me as the more interesting new possibilities. 
If you have some specific lenses you think I should be looking closer at, by all means let me know. 
It used to be that the pro sports photographers and photojournalists all used Canon or Nikon DSLRs with single digit numbers in their name. Then Sony came along with the A9 in 2017 and joined the party.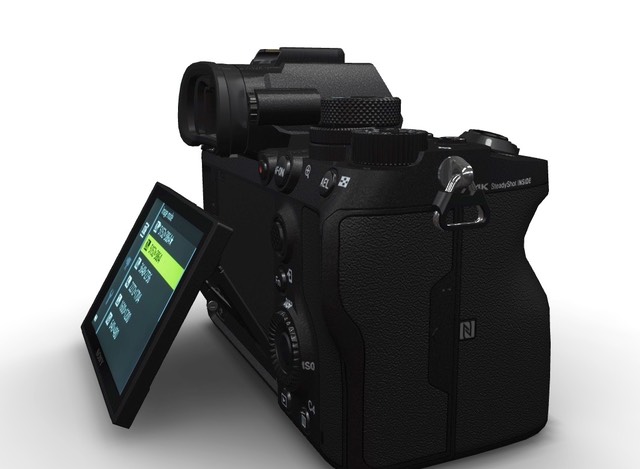 The thing that distinguished all those cameras is that they were optimized for speed and low light, not pixel count. The Canon 1DX Mark III and Nikon D6—the current models in a long lineage—are 20mp, while the Sony A9 Mark II (also current model) is 24mp. The Nikon D6, in particular, has sensor design that particularly suits high ISO work, to the point that it actually impairs dynamic range some in the lower ISO range.
Rumors—and not just about the upcoming Sony A9 iteration—seem to indicate that the days of low pixel count but high speed are nearing an end. Nikon's upcoming high-end mirrorless camera is also rumored to be a high pixel count camera. Meanwhile, the recent Canon R5 will happily fire away its 45mp at 20 fps. 
What happened?
Three things are driving the trend line now:
With BSI and other advances, the light collection on a full frame sensor is about the same whether the sensor has 20, 24, 36, or 45mp. If you're talking about output that isn't stretching pixels out into visibility (e.g. almost all news reporting and even sports photography such as the Sports Illustrated magazine spreads), then the visible noise is the same. But what about cropping to get the sports image, you ask? Same thing applies, as if you don't have enough lens, you'd be cropping both a 20mp and a 45mp image.
With copper, stacked silicon, and smaller process size, among other things, bandwidth has improved and will continue to do so. Add in faster and better SoC (Bionz, Digic, Expeed) and sometimes dual SoC, and you can handle that bandwidth just fine.

The overall market collapse coupled with the pricing pressure on photographers has made

the "just buy every model you need for specific purposes" notion fly out the window

. Not many are buying multiple cameras now, and the ones that are tend to be looking at video features, not still features. Meanwhile, camera companies can't afford to have huge model lines where every specific need is filled.
So while the top of the DSLR market maxed out with the 20mp Canon 1DX Mark III and Nikon D6, the mirrorless market is likely to top out differently, with the Canon R5, Nikon Z9, and Sony A9 Mark III all around the 45mp mark. It's a good thing we've moved to the faster CFe cards, as we need big cards that perform really fast, particularly on ingest to our computers. And yes, that means that your old computer might not keep up and you'll need more storage and backup for it. The price of progress.
But this trend isn't going to stop with just the top-end cameras, either. I think the mid-level cameras will rise up in pixel count, too. The Sony A7 Mark IV is rumored to be coming in at 30-32mp.  I'll say this, too: the only thing I don't like about the Canon R6 is that it's just 20mp. It's the highest priced in the "basic" full frame model competition (R6, Z6 II, S5, A7), and it has the lowest pixel count. That will work against it over time, I think. 
Yes, I know some of you are saying "stop, I don't want more pixels." But the other trend dedicated cameras are fighting against is that smartphones are adding pixels, too. In order to stand out, there's a delicate balance where the ILC is going to have to be clearly better than 20mp with a 20-100mm lens (which is about where the middle of the smartphone market seems to be headed). 

Moreover, I've written it before: more sampling is always welcome. My goal has always been "optimum capture with optimal processing," which is basically the Ansel Adams thing stated a different way. 

Those two things taken together mean that there will be fewer of us in the future, but we'll be asking for "more." Those that don't need "more" will more and more find that their smartphone is all they need. 
It's time to look back at 2020. What did we get? Let's start with the mirrorless cameras (order listed for a maker is latest introduced camera first, earliest last):
Canon M50 Mark II, R5, R6 (3)
Fujifilm X-S10, X-T4, X-T200 (3)
Leica SL2-S, Q2 Monochrom, M10-R, M10 Monochrom (4)
Nikon Z7 II, Z6 II, Z5 (3)
Olympus E-M10 IIIs, E-M10 Mark IV, E-M1 Mark III (3)
Panasonic BGH1, S5, G100 (3)
Sony A7C, A7S Mark III (2)
That's a total of 21 cameras. Who would have guessed that Leica would have led the camera introductions? ;~) In terms of clearly "new" models, we got 10. The other 11 are what I would call generational updates of existing models, and many of those were very tame updates.
The most impressive of the new cameras for me are probably the two Canon full frame models (R5, R6). These are completely new models with completely new technology, and they immediately put Canon back into the full frame mirrorless customer hunt big time. 
Nikon put most of their effort into entry-to-mainstream full frame. Olympus continued their "just roll what we got into more models" strategy, while Fujifilm, Panasonic, and Sony were the companies that stuck their toes into new waters, not necessarily successfully. 
I expect Canon to be slightly more active with camera introductions in 2021, Olympus and Leica to be less active, and the rest to be about as active as they were in 2020.
Now for mirrorless lenses:
Canon 50mm f/1.8 (RF), 70-200mm f/4L (RF), 100-500mm f/4.5-7.1L (RF), 85mm f/2 macro (RF), 600mm f/11 (RF), 800mm f/11 (RF), 24-105mm f/4-7.1 (RF) (7)
Fujifilm 10-24mm f/4 (XF), 50mm f/1 (XF), Fujifilm 30mm f/3.5 (GFX), 45-100mm f/4 (GFX), 35mm f/2 (XF) (5)
Laowa 15mm f/4.5 shift (RF, Z, FE), 14mm f/4 (M, L, Z, FE), 50mm f/2.8 macro (m4/3), 9mm f/5.6 (M, L, Z, FE), Laowa 65mm f/2.8 macro (M, XF, TL, E) (5)
Nikon 14-24mm f/2.8 S (Z), 50mm f/1.2 S (Z), 24-50mm f/4-6.3 (Z), 20mm f/1.8 S (Z), 24-200mm f/4-6.3 (Z) (5)
Olympus 100-400mm f/5-6.3 (m4/3), 12-45mm f/4 (m4/3) (2)
Panasonic 85mm f/1.8 (L), 20-50mm f/3.5-5.6 (L) (2)
Samyang 35mm f/1.8 (FE), 85mm f/1.4 (RF), 14mm f/2.8 (M, XF, m4/3, FE), 85mm f/1.4 (M, XF, m4/3, FE), 75mm f/1.8 (FE) (5)
Sigma 24mm f/3.5 (FE, L), 35mm f/2 (FE, L), 65mm f/2 (FE, L), 105mm f/2.8 (FE), 85mm f/1.4 (L, FE), 100-400mm f/5-6.3 (L, FE), 16mm f/1.4 (TL), 56mm f/1.4 (M, TL, m4/3, E) (8)
Sony 28-60mm f/4-5.6 (FE), 12-24mm f/2.8GM (FE), 20mm f/1.8G (FE) (3)
Tamron 17-70mm f/2.8 (E), 70-300mm f/4.5-6.3 (FE), 28-200mm f/2.8-5.6 (FE) (3)
Tokina 400mm f/8 (m4/3, FE), 85mm f/1.8 (FE) (2)
In terms of mounts:
Canon M: 6
Canon RF: 8
Fujifilm XF: 6
Fujifilm GFX: 2
Leica L: 9
Leica TL: 3
Nikon Z: 8
m4/3: 7
Sony E: 3
Sony FE: 20
Total: 72
Look at all that Sony FE activity. Sony has the fullest full frame lineup, and one that's the oldest and most mature, and lens choice is the reward. I don't expect that to hold up. Canon and Nikon have clearly shown that they have substantive body volume now, so the third parties will find a way to bring their FE lenses to RF and Z in 2021, I'm pretty sure. 
With lenses, I expect Canon RF and Nikon Z to be much more active lens mounts in 2021, Fujifilm XR/GFX, Leica L, and Sony FE to be about the same, while the rest are unpredictable. 
It's impossible yet to determine exactly how many mirrorless cameras were physically made and sold in 2020, but we can start to take an educated guess: 2.8m cameras. At a 1.7x attachment rate, that would also imply about 3.8m lenses.
We're at a critical point, partly due to the pandemic: for the camera business to stay active and healthy those volume numbers will need to grow significantly in 2021 and onward, and the average sale cost will have to go up, as well. That's a tall order, but possible if the world starts to return to some level of normalcy and becomes more travel-friendly by mid-2021. 
So, Olympus has turned over the Imaging group to a new company, OM Digital Solutions. Only problem? omdigitalsolutions.com is a Web site of an Indian SEO company. omdigitalservices.com is also taken. Ditto omcameras.com and omdigital.com. 
Here's a little help for JIT and their new company. The following Web site name is still available: omimaging.com. So is om43.com and omdimaging.com. Meanwhile, the domain name of om.com is for sale. 
Why do I get the feeling that the Web site will become an issue? For the time being, the Olympus Web sites still have camera info, and it appears that getolympus.com—the online sales site—will be back on Monday, though I suspect under new ownership. However, if OM Digital Solutions doesn't have rights to the Olympus name past a certain point, how does that work?
The devil's always in the details.
Update: the company picked om-digitalsolutions.com. So now a firm in India is going to get a lot of traffic when people omit the hyphen... The new Web site is pretty barren. Clicking on the Product/Support tab takes you to the old Olympus Asia product pages.
In trying to keep my various Web sites all lean while still the same in design, one thing I've done is simplify the News/View sections. You'll find more of a "blog style" to this section now, and not the warren of folders and subfolders that were starting to get completely out of hand. 10 years worth of articles meant thousands of articles were cluttering the menu system.
The way things work now is that the top News/View page is the one you want to point your RSS newsreader at. There are no submenus in this section (though it is still possible to get to an individual news/view page directly if you know how or a link is offered to it). To find articles that move off that page, you'll need to look in the monthly archives that are referenced at the bottom of that top-level News/View page. 
Can you still get to the thousands of previous News/Views articles? Yes. I've left them in place on the server, they're just not reachable via the menus. Old links and searches should still find those articles. If you want to "hunt" for something manually, you should simply start at the Old News/Views header page and drill down.