News/Views
Today I'm posting two new mirrorless camera reviews. One for the Fujifilm X-S10 and the other catching up with the Canon M6 Mark II. 
If you restrict the B&H search function to US$800 to US$1200 these days, you get the following crop sensor mirrorless camera choices (some are kits, some are body only):
Canon M50 Mark II 
Canon M6 Mark II
Fujifilm X-E4
Fujifilm X-S10
Fujifilm X-T30
Nikon Z50
Olympus E-M1 Mark II
Olympus E-M5 Mark II
Olympus E-M5 Mark III
Panasonic G7
Panasonic G85
Panasonic G9
Panasonic G95
Sigma sd Quattro
Sony A6100
Sony A6400
Yikes! A very crowded place to be considering a camera. Even a full frame mirrorless Canon RP body sneaks into this search. 
So let me give you a bit of advice here. I've reviewed five of those cameras fully, used ten of them, and am familiar with the pluses and minuses of the other six. 
You can make a very quick cut by just deciding if you're going m4/3 or APS-C. 
That's not quite as straight forward as it seems: m4/3 uses a 4:3 aspect ratio while APS-C uses 3:2. I personally don't like the squarer 4:3 ratio and tend to use even wider 16:9 aspect ratios on all my m4/3 cameras, though that gobbles up some pixels. Meanwhile, m4/3 has a more complete lens selection available than APS-C, and that might tempt you. 
APS-C sensors are currently "better" than m4/3 ones. Perhaps not by as much as the APS-C users think, but more than the m4/3 users think ;~). Two of the APS-C makers (Nikon, Sony) have options that would let you grow into full frame using the same lens mount. 
But the real "decider" to me is going to be the user experience (UX). 
Some of you will prefer simpler, more automatic cameras, others ones with a rich set of user options and controls. Moreover, there's considerable difference between all of these cameras when it comes to the handling side. I'd argue that if you're not 100% comfortable with the handling of a camera, you're not going to be happy with your choice long term. Thus, Canon users will gravitate towards Canon, Nikon towards Nikon, and Sony towards Sony. A local camera store that stocks multiple brands is your friend here. You're going to have a visceral reaction to holding and framing with each camera, and that first impression is usually accurate. 
Okay, with that out of the way, what are my choices? 
Here is my preferred subset of the above list and a quick word on why I think you might consider each:
Canon M6 Mark II — It's simple, but it's flexible and extendable. It arguably has the best image sensor of the bunch. If the few M lenses appeal to you and you've been a Canon user before, this is your choice.
Fujifilm X-S10 — Surprised? In many ways, this is Fujifilm's "most complete" design yet. That's not to say it has every feature or performance capability, but that everything about the camera feels right and complete for most uses. The image sensor is great, and you've got lots of lens choices. 
Nikon Z50 — This little camera keeps getting under-estimated, probably because of its 20mp sensor. Yet that sensor is excellent, and the Z50 really feels and operates like a very miniature DSLR. The two kit lenses are excellent, compact, and about as good as kit lenses get.
Olympus E-M1 Mark II — Surprised again? This was one of Olympus's best efforts, and still shines today with all the firmware updates. At the close-out pricing, it's a bargain. 
Panasonic G9 — This may be the most complete camera of the bunch. My only real problem with it is the camera size versus the sensor size, so make sure it's what you want. 
Sony A6400 — A solid choice but in a strange, uncomfortable for some, body. Make sure you can live with the UX. If you can, your big decision really is what lens to match it with. I don't like the Sony kit lenses. The Tamron 17-70mm f/2.8 might be the better choice, but that's pricey for people shooting at this price point.
There's not a dud in that list of six. But they are all very different from one another. The Fujifilm, Nikon, Olympus, and Panasonic are the most DSLR-like, but different DSLRs ;~). The Olympus is the most rugged and has been in my gear closet since it first came out. The Nikon two-lens kit is the best value and the one I travel with the most these days.
You have great choices here. Take the time to figure out the right one for you.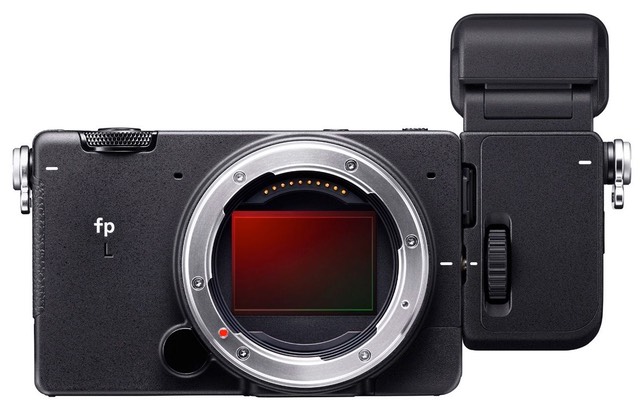 Sigma today announced the fp-L, a 61mp version of the unique fp camera. I'm not entirely sure why. 
Oh, there are improvements from the original fp, including a new detachable EVF, the addition of phase detect to the autofocus system, USB Power Delivery (but not with the EVF attached), and a few other small bits and pieces. But it's the 61mp image sensor that makes me wonder about this camera.
The fp you may recall, can take stills but is really a small, powerhouse video camera. In that sense, the 61mp sensor—almost certainly the one that powers the Sony A7R Mark IV—is confusing. With its slow 1/10 second rolling shutter, motion gets easily jellied and frequency-driven lighting will often be an issue. Meanwhile, as a 61mp stills landscape camera, there's not much on offer to make the fp-L all that attractive for that, either, other than the sheer pixel count. 
As has been the case with pretty much every Sigma camera, the fp-L is idiosyncratic. 
I can see how the original fp makes for an interesting and potentially useful addition to a videographers' bag. It's small size and excellent video capabilities make a lot of sense for certain types of work where you need to be discrete and portable (though as you "rig up" a video camera, the body size becomes less important). But the fp-L doesn't really tick any new critical boxes for me, so I'm not sure what Sigma's intention is.