News/Views
Today Canon and Fujifilm updated key mirrorless models in each line.
Canon introduced the R6 Mark II, an unexpected update of the popular R6 camera. The big news here is the move to a 24mp image sensor (the original was 20mp). This new image sensor isn't BSI or stacked, though Canon does indicate that has improved rolling shutter performance—i.e. faster data offload—than their previous full frame 24mp sensor. So much so that, with electronic shutter, the camera is capable of 40 fps (12 fps with mechanical shutter).
Also new is that 4K video is not cropped, but oversampled, and supports 60P for this (40 minutes specified, probably due to heat). FullHD also gets a boost to 180 fps, though it is sub-sampled. With the appropriate Atomos recorder, you can record 6K raw from the entire image sensor, or 3.7K raw from an ASP-C crop. 
The R6 Mark II also inherits some of the focus tracking from the R3. 
Price remains at US$2500, body only. Camera size is unchanged, though it dropped 10g in weight (.4 ounces).
Fujifilm introduced the X-T5, the latest iteration of the X-T# lineup that had been the key model for them. I write "had been" because it's now clear that the X-H# line is the top of the XF lineup and where Fujifilm chooses to innovate now. The X-T5 appears to be relegated now to a lower-than-top-end camera. To that end, the X-T5 gets the 40mp X-Trans image sensor from the X-H2, with some simplifications in the camera itself that mostly center on still photography. 
For example, the X-T5 retains the legacy four-dial design, but there's no battery grip, and the camera itself has downsized slightly in the process (both width/height and weight). The EVF stays at the 3.69m dot level, despite the higher resolution image capture. 8K is not available, with 6.2K being the maximum size. If you look at the X-H2 and X-T5 specs, you'll see a number of other small implications, as well. No headphone jack, for instance.
Of course, there's a lot that's improved from the X-T4 beyond just the extra pixel count. The new X-Processor 5 engine powers better autofocus and some improvements in burst rates, as well as better video. The film simulations are back to the full set Fujifilm supports, as well.
Since I mentioned the X-H2, the difference in price between the two bodies is US$300 (the X-T5 is listing at US$1699). For a still photographer, I'd tend to say opt for the X-T5, but for a videographer, get the X-H2. It's small differences that power that advice, but I think relevant ones. 
Fujifilm has been moving considerably upscale with their XF line recently (X-H2s, X-H2, X-T5), mostly driven from the new image sensors and image processor. The question now is what happens to the rest of the line (X-S10, X-T30, in particular). Is 40mp X-Trans the new 26mp X-Trans? Given Fujifilm's lowish overall volume, I can't imagine them running with three or more image sensors for long. More intriguing is something I haven't heard anyone else predict: will the compact X100 VI become a 40mp camera? That might be the jolt to make the X100 solidified as the remaining compact champion. 
Take an A7R Mark IV, improve the image sensor, add the new BIONZ XR image processor, add the heat sink and a new articulating LCD design, improve the IBIS performance (and add a new pixel shift mode that corrects for movement), then improve the autofocus system with a new AI layer, and you have the new camera.
In some ways I feel like I'm writing the same thing over and over this week. Once again we see iterative improvement as opposed to revolutionary improvement. No doubt that Sony is trumpeting loudly as if revolution has taken place, but I'm not expecting this new camera to turn out to be anything more than a refined Mark IV with new video capabilities. 
That said, the A7R Mark V is now an 8K video camera (recording up to about 30 minutes without overheating), and clearly should perform slightly better than the model it replaces. But it also increases in price to US$3900 (body only), a US$400 bump. 
Can Backside Illumination (BSI) actually be improved? Yes. Even I have been using a shorthand in reporting about BSI. Basically FSI (Frontside Illumination) puts both data/power lines and electronics on the same surface as the light collection. That means that not all of the surface is available for light collection. The shorthand for BSI has been that "all of the surface" is available for light collection (the electronics goes in a layer below light collection). That's not exactly true. No current BSI implementations have 100% light collection because they all have rounded corners, and some still have a line or two in and among the light collection area. Some corners (Nikon's 45mp ones, for instance), are highly rounded. Coupled with other aspects of the light well itself (e.g. microlenses, walls, etc.), it isn't true that 100% of the light hitting the sensor surface gets into the collection area. So, yes, there are still improvements that can be made, though they might not particularly large. Sony didn't make any specific claims in this respect other than to note that the BSI orientation was improved. It seems that much of the image sensor change, however, went into bandwidth processing, as we no longer bin the 4K full frame video output on this camera, but downsample from 6K instead. 4K/60P, however, is done with a 1.24x crop, as is 8K/24P.
Sony makes their biggest claims on the new camera centered around the dual BIONZ XR and new AI processors, particularly regarding the focus system, which now has newly extended subject detection capabilities, including human pose tracking. It was interesting that Sony chose to show comparisons with how the A7R Mark IV failed in a number of autofocus situations where the A7R Mark V succeeds. So much for the fan boy "it focuses perfectly" chants. No doubt the new system is better, and no doubt we'll find new things where we want a bit more capability. That said, I didn't find the Mark IV as a problematic camera for focusing—particularly for the types of things I'd tend to photograph with it—but the Mark V is clearly better, which I always approve of. Do note that the new subject detection also gets very complicated in the controls, as we have animal/bird and animal or bird as separate detections, and you still have to chose what part to focus on (eye, head, body, or some combination). I like this form of control, but some won't, and would probably prefer the Nikon Z9's "just let the camera figure it out" approach.
The new tilting/articulating Rear LCD solves the "tastes great/less filling" debate that's gone on for some time with Rear LCD positioning. Like Panasonic's recent change, you can have it both ways: tilting on the back, or articulating around to the front. Meanwhile, the EVF is now a 9.44m dot one, another upgrade.
The sensor-IS system appears to have been improved (to "8 steps"), though Sony once again has a lot of footnoting that comes into play. More important than the two-axis improvements at the image sensor are the multi-axis capabilities with the combined sensor- and lens-based IS working together. 
We get a number of raw options, including medium and small raw files (downsampled) and an improved 16-image Pixel Shift 240mp mode that Sony's desktop software can remove motion from. The Mark V also becomes the first Sony Alpha to support focus shift photography. 
Plenty of other new bits and pieces make up this new model. While I know some will be disappointed that the image sensor resolution didn't change, my initial reaction is that many of the things that Sony addressed with this new model actually cover many of my complaints about the older model.
Here's the observation to note today: we have four players in the full frame mirrorless market today, and they all seem to be opting for a similar model lineup:
| | Canon | Nikon | Panasonic | Sony |
| --- | --- | --- | --- | --- |
| entry | RP | Z5 | | (A7C) |
| basic | R6 | Z6 II | S5 | A7 IV |
| pixels | R5 | Z7 II | S1H | A7R V |
| flagship | R3 | Z9 | | A1 |

So is this a good thing or a bad thing?
Historically, attempts to dislodge the Film/DSLR Duopoly (Canon/Nikon) didn't work. But that was because it's just difficult to build a full line of product quickly while the duopoly is iterating theirs, so most perceived any new competitor to not be complete, to not have as many useful options, and possibly not ever able to fill in those addition models. Competitors that hesitated with autofocus back in the film SLR days quickly found themselves outgunned once Canon and Nikon went all AF.
With mirrorless, Sony had a many year head start, so had already built out their line—including many niche models not listed above—prior to Canon and Nikon making their DSLR to mirrorless move. So things changed a bit. Effectively, today we have a Triopoly in full frame mirrorless, and I'm happy we do. Three strong competitors force everyone to be a little more responsive to customer needs and make them all a little more innovative in their iterations. We've seen glimpses of that already (e.g. removal of the mechanical shutter by Nikon), but I'm hoping we'll see more. 
With a fourth competitor lurking (Panasonic), this, too keeps the competition heated and everyone trying to avoid self-inflicted wounds and mistakes. I think the Panasonic cameras are quite fine, it's just that they don't have any legacy they're playing off of, so you technically have to abandon what you've been using to go with the Panasonic full frame mirrorless system.
However, there are questions we should ask. For instance, are these the right four standard full frame models to define? As you might note, the Sony A7S, and A9 don't show up in that simplified table, and I've got the A7C in brackets because it's really more of a vlogging camera. Cameras such as the Nikon Zfc suggest that there might be yet another position (e.g. an eventual Zf), and we haven't even gotten to the dedicated video options (Canon Cinema, Sony FX models). 
Since this is primarily a still photography-oriented Web site, I'll stick with the stills-oriented cameras in my comparisons. 
One thing to note is this: Canon is in first generation of their basic, pixels, and flagship cameras, Nikon is in the first or second generation, and Sony is in their first, fourth, or fifth generation. While this might seem to be an advantage to Sony, the late entry of Canon and Nikon to mirrorless full frame gave them the chance to see how Sony iterated before producing their own models.
Take the Nikon Z6 versus the Sony A7 models, for instance. The original Z6 came in just slightly behind the Sony A7 Mark III in terms of ability, in my opinion, while the Z6 II now exceeds the A7 Mark III and is just behind the A7 Mark IV. We all expect Nikon to iterate to a Z6 III in the next six months, and it's possible that will move it ahead of the Sony model. So don't get too hung up on generations. We're definitely already in a leap frog game with the basic and pixels models, and probably eventually will be with all four model levels.
Here's what I think overall: most enthusiasts would be quite happy with any of the models I label as "basic." As we enter the holiday season, I'd put the Sony A7 Mark IV a bit ahead of the other basic models from the competitors, mostly due to the upped pixel count and many small refinements. But the Z6 II is US$1900, while the A7 Mark IV is US$2500. That's a US$600 difference that could pay for a very good lens. Sony dealers will try to talk you down to an A7 Mark III if you're price sensitive, but I don't judge that older model to be as good as the Z6 II. 
I mentioned lenses, and that's becoming more of a distinguishing trait than the camera bodies at the same level. Let's take 24-105mm or 24-120mm, for instance (current pricing in US):
Canon 24-105mm f/4L IS (US$1300) — A very decent lens, but not at the level of the Nikon and Sony offerings, in my opinion. Also at the top end of the price range here.
Nikon 24-120mm f/4 (US$1100) — In my optical testing, the best of the bunch, though it doesn't have lens-based IS as the others do. I haven't found that omission to be a meaningful liability on the Z6 II body, which has effective body IS.
Panasonic 24-105mm f/4 OIS (US$1300) — A solid lens with one feature the others don't have: a real macro capability (though the Nikon does focus near the macro range).
Sony 24-105mm f/4G OSS (US$1100) — My goto mid-range on the Sony bodies, it's a really good performer optically, and like the Nikon, tends to be priced at the bottom of the range.
So, you can save a couple of hundred dollars and get "better" lenses. I believe that you now have to think about camera body and lens simultaneously if you're just now opting into the full frame market. To use a baseball metaphor: Nikon and Sony are hitting triples and home runs with their S-line, G, and GM lens lines, while Canon is hitting singles and doubles with most of their L lenses. If the choice is between a great lens on the worst body or the worst lens on a great body, I'd pick the former. 
That said, my long-held belief still stands: stick with the brand you've been using. That's particularly true at full frame. So Canon EF users should stick with Canon RF, Nikon D owners should stick with Nikon Z, and Minolta/Sony A owners should probably stick to Sony FE. Nomenclature, menus, buttons/controls, accessories, and much more all tend to be similar within brands as they switched from DSLR to mirrorless (Canon has more exceptions to this, particularly the R and RP models). 
What I primarily want to reinforce with this article is that we have very direct, intense competition between four brands at two of the positions, and between three of the brands at three positions in full frame. Competition is good for consumers. You can already see Sony trying to paddle faster to keep their bow ahead of the old DSLR duopoly. We're going to see a lot more activity in these camera lines in the next 18 months. Lots more.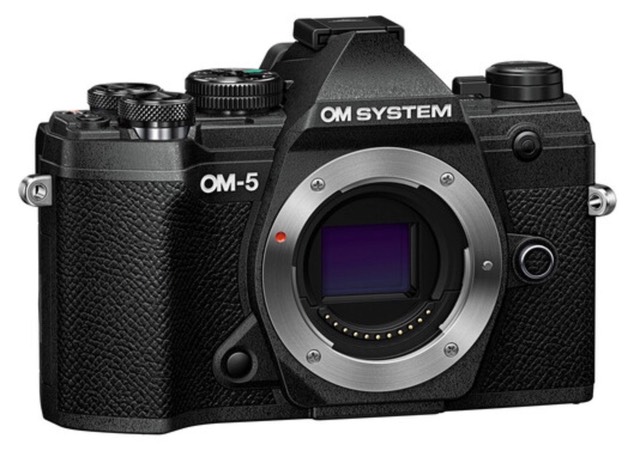 Take an Olympus E-M5 Mark III body, put some of the E-M1 Mark III features inside, and you have the new OM-5. Literally. The new camera is ostensibly the same physical body as its predecessor, just with new markings.
Most people will consider the OM-5 a "minor" upgrade, and to a large degree they'd be right. On the other hand, is it arguably better than the E-M5 Mark III it replaces? Yes, in modest ways. We have built-in ND filters available, the image processor is newer and faster, IBIS got an extra stop of capability, Starry Sky autofocus, and there's a 50mp handheld pixel shift resolution mode. But the OM-5 doesn't get subject recognition or the OM-1 phase detect system, and it uses the same E-M5 menu organization. Likewise, we don't get a USB-C connection, as the body is still using the old E-M5 microUSB port. You can trickle charge the camera, but not get USB Power Delivery capability. The new camera is US$1200 for the body only, US$1600 with the 12-45mm f/4 PRO lens.
In the m4/3 community, it appears that the initial reaction is mostly one of disappointment. Many seemed to think that the OM-5 would get the OM-1 image sensor and autofocus system at a minimum, but the feature changes seem much more like E-M1 Mark III internal ones that migrated to the lower body. 
I've written for some time that any current interchangeable lens camera is capable of producing excellent photos when used properly. If there was a market for the E-M5 Mark III, then there's still a market for the OM-5. Moreover, the new camera is now fully under the wing of OM Digital Solutions, and not just a camera they inherited from Olympus. That it isn't something particularly exciting with lots that's new isn't much of a surprise. The OM-1 series is where the new engineering really is occurring at OM Digital Solutions. I suspect we'll next get an OM-10 that takes a similar path (e.g. getting a few features from a former higher model).