This site covers all mirrorless cameras and related products and is updated nearly daily.  Canon and Nikon DSLR cameras are covered on dslrbodies.com, which is also updated nearly daily. 
Monday — January 20, 2020
Friday — January 17, 2020
The Tokina 85mm f/1.8 telephoto lens was introduced for the Sony FE mount. 
Leica announced the 40.1mp M10 Monochrom camera.
The Sony A9 Mark II got a firmware update to 1.01.
Wednesday — January 15, 2020
The compact Hasselblad 45mm f/4P lens was introduced for the XCD system. This brings the number of lenses for XCD cameras up to 10. 
Monday — January 11, 2020
The Nikon Z lens road map was updated. The Nikon Z mount adapter page was updated. 
Tuesday — January 7, 2020
The Nikon 70-200mm f/2.8 S was added to lens database. 
Thursday — January 2, 2020
Wednesday — January 1, 2020
Other things this site contains:
Thorough and thoughtful reviews by technologist and photographer Thom Hogan of mirrorless cameras from Canon, Fujifilm, Nikon, Olympus, Panasonic, Samsung, and Sony cameras.  
Full analysis of the handling and performance of these cameras.
Click for Camera Reviews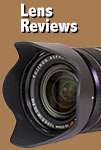 Reviews of Canon EOS M mount, Fujifilm X mount, Nikon CX (1) and Z mount, Olympus and Panasonic m4/3 mount, Samsung NX, and Sony E and FE-mount lenses. 
Non-nonsense descriptions of how these lenses perform.
Click for Lens Reviews
But there's much, much more on this site:
This site first appeared separately in 2011—it had been part of another site starting in 2009—after I'd been using m4/3 mirrorless cameras in my photography work for two years. Since then, I've expanded the site to its current form, where it covers the entire mirrorless camera marketplace in a way no other Web property does. 
The sensors are large. So are the possibilities.
Don't be fooled by the simple look of this site: it's filled with articles, reviews, data, and more, with even more coming in the future. 
Help me improve this site. If you find incorrect or incomplete information, let me know. Use the email contact at the bottom of this page to let me know what you found (link after Copyright message).