What is It?
The R6 is Canon's entrant for the ~US$2000 full frame user. Yes, at US$2500 it's pricier than the Nikon, Panasonic, and Sony offerings, but there are a few aspects of the R6 that might justify that differential. Long term, I don't think the differential will hold up, though. 
The sensor, image processor, and focus processing for the R6 come right from the top end Canon's 1DX Mark III DSLR. I haven't shot enough with both cameras to say with certainty, but I think the R6 might be better than the 1DX Mark III at times when it comes to focus performance. At 12 fps mechanical shutter and 20 fps electronic shutter, I found the R6 a reliable sports/wildlife camera. 
But I'm getting ahead of myself. 
Canon describes the R6 body as a polycarbonate exterior over an internal magnesium alloy structure. On parts of the body that your hands typically touch, there's a light faux-leather grip material added. That material has less texture than I'm used to, but it still provides both some additional protection as well as holding stability. 
The image sensor of the R6 is what Canon calls a "similar" one to the 20mp sensor in the 1DX Mark III, and which uses Canon's Dual Pixel AF II. I'm not sure what's "dissimilar" between the two variations, though: they seem very closely matched to me. Since 20mp is an odd pixel count, that means 5472 x 3648 pixel images, which can be JPEG, HEIF, or raw (C-RAW or CR3). Each pixel is (for full frame these days) a relatively large 6.56 microns square.
Every pixel on the sensor can be used in focus calculations with Canon's Dual Pixel AF. The R6 recognizes human heads, faces, eyes, and many animals, as well. I was pleased to find pretty much all of Canon's top AF capabilities included in the R6, including touch-and-drag focus sensor selection, the full servo tracking options, and even user-defined alteration of the sensitivity of the manual focus ring (Nikon, are you paying attention?).
The focus system has as many as 6000 selectable focus positions across nearly the entire display, though normally you'd be using a subset of up to 1053. You've got a thumb stick to control focus position, as well as that thumb-drag on the rear LCD.
The image sensor is at the heart of another change for Canon R models: sensor-based IS. This five-axis system normally gives you up to 5 stops (CIPA) of stabilization, but with some IS-enabled lenses, this can go all the way up to 8 stops (see performance, below). 
Over the image sensor is an AA filter, and it's not the 16-point of separation one first seen in the 1DX Mark III, but the more common 4-point one. This may be of concern to some of you, as antialiasing does rob some visual sharpness in the results in an attempt to reduce moire. Frankly, I wouldn't worry about it. I end up applying slightly different sharpening values to the R6 images than I do with some of my other cameras, but for most people, this is getting down in the weeds and missing the big picture. That said, to get the same level of apparent fine detail at high ISO with JPEGs as my Z6, I did have to change the settings on the R6, and then you start fiddling until you find the right balance of sharpening and noise reduction. But again, you're in the weeds here if you're trying to eek out the last little bit the camera is capable of.
I've already mentioned the shutter. It goes to 1/8000 in mechanical mode (tested to 300k activations), and the camera normally shoots with electronic first curtain shutter enabled. A silent electronic shutter mode is also available (only down to a half second), as is a full mechanical mode. 
The EVF is a 3.68m dot OLED display with a magnification of 0.76x. This is basically the same as the Nikon Z6/Z7 choice. While Canon's version is good, there's something in the optics of the Nikon version that makes it a little better in my view. Moreover, Canon's exposure metering tends to vary more widely as you zoom/pan in challenging/changing light situations, so I was more aware of the EVF than I am on my Nikons. On the other hand, Canon's EVF can run at 120 fps and the focus overlays and other aspects of the display seem snappier then Nikon's. Canon does have a nice option that reduces the image area size slightly for eyeglass wearers, something the other companies need to copy.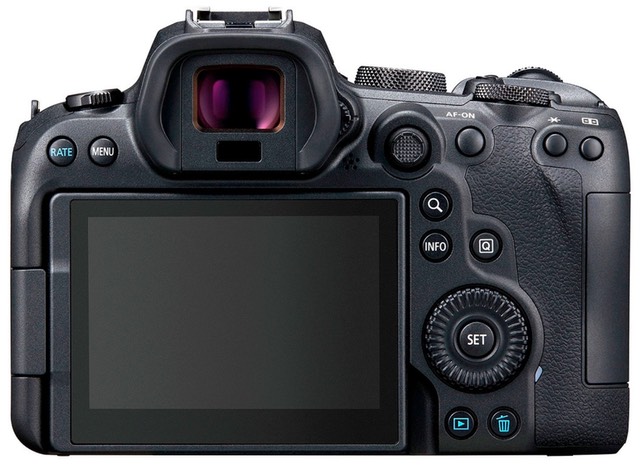 Out back is a 3" 1.62m dot screen. I note that at least one other reviewer has said that it's difficult to see in bright light, but I'm going to say that it's brighter than my Nikon Z6 display at the defaults, and much better than the Sony's default. Fortunately you can adjust it if you do find it too dim. Note that the Rear LCD is the fully adjustable type, on a pivot, not just on a simple tilting mechanism. While still photographers tend to prefer the tilting type, videographers will appreciate the flexibility of adjustable LCD, which can fold around to be seen from the front of the camera. I should point out that with this type of LCD, I travel with the LCD flipped so that it not exposed, which protects the glass from scratching.
While the R6's higher end brother reached new heights with 8K video, the R6 has excellent video capabilities of its own, only a bit more in the realm of what people actually use. 4K video uses a 1.07x crop and supports 60P. In essence, this is a 5.1K oversampling (you can also use an APS-C crop). Dual Pixel autofocus is supported in video work. Default storage is 8-bit 4:2:0 recorded with a max bitrate of 230Mbps, but there's also an internal 10-bit 4:2:2 mode with a 340Mbps max bitrate. 
As usual, we've got a wide range of video tools, including zebras, focus peaking, as well, with both H.264 and H.265 compression, C-Log gamma, HDR PQ capture, compressed (AAC) or uncompressed (Linear PCM) audio, and much, much more. Both mic and headphone jacks are together under one flap on the side of the camera.
By now, you've probably heard about HeatGate, where the R5 or R6 will shut down prematurely due to heat when recording video. That's true, unfortunately. Canon rates the waiting period after the heat point is reached as 10 minutes, after which you have a 5 minute maximum recording period again before doing the shutdown/wait dance again. The R6 isn't what I'd call a use-all-the-time video camera, because under normal office conditions, it maxes out somewhere near 30 minutes at the highest video setting before it calls a time-out to cool down.
That's partly because the R6 (and R5) is extremely well weather-sealed. Coupled with the way Canon did (or didn't do) heat mitigation in the body, it takes quite some time for the camera to cool down after being maxed out to the heat shutdown point in video. Thus, I'd tend to say that the R6 makes for a very nice B-roll camera where you might be making short takes of things to cutaway to from your main camera output. But as a main, always on, video camera? No.
The R6 is equipped with dual SD card slots, both UHS-II capable. As you'd expect, there is built-in Wi-Fi and Bluetooth technology for connecting to your mobile devices. The R6 is one of the cameras that can utilize Image.Canon.Service, which is a cloud-based system that can automatically forward images and video to computers, mobile devices, or sharing services. The USB port is 3.1 Gen 1, using a Type C connector. 
Battery-wise, we get the new LP-E6NH. This battery has the same form factor as the LP-E6N, but with capacity boosted up to 2130mAh, about a 2Wh improvement. You do get a full charger with the camera, but the R6 can also be charged and operated via USB Power Delivery. Canon claims 380 shots CIPA via the EVF, but I was easily getting much more than that.
The Canon R6 is made in Japan and costs US$2499 for the body only, with several body+kit lens options available. Body weight is a substantive 680g (approximately 1.5 pounds). An optional BG-R10 battery grip provides vertical grip capabilities as well as the ability to hold two batteries for extended shooting.
Source of the reviewed camera: six-week B&H loan
Canon's Web site for the camera. If you're coming from a previous Canon R, Canon has a somewhat hidden "EOS R5 & EOS R6 Improvements List" that's worth checking out.
How's it Handle?
Okay, first things first. While I use Canon cameras fairly often so as to stay informed about where they perform vis-a-vis Nikon and Sony (primarily, but the other camera brands, too), Canon isn't my first choice in UI. That has to do with Canon's vertical dials (front and back). More so than the Nikon and even Sony designs, the Canon UI tends to force my thumb away from the focus controls and my index finger away from the shutter release. The more that happens, the more likely you miss the timing of a shot due to digit displacement.
This has been a fundamental design difference between Canon and Nikon since almost forever. So much so, that long-term Nikon users favor the Nikon approach automatically, while long-time Canon users favor the Canon approach automatically. I'm no different. I favor the Nikon approach. 
So, that out of the way, let's consider the R6's hand ergonomics. 
The right hand grip is deep and easy to grab, though some might find it uncomfortable for long shooting sessions due to the near 90° angle for your right fingertips. The shutter release is almost on the front face of the camera it's so angled over; it took me a bit to get used to pressing more towards me than down, but I'll admit that's comfortable once adjusted to.
I like that Canon's abandoned the three-in-a-line, same-style, button cluster behind the shutter release. While the buttons are now spread a little differently on the top and right rear plates, I found that I could find most of them easily and naturally while shooting. The buttons are also now distinct from one another, which makes it easier to find them by touch. The exception is once again the * and focus buttons: these buttons require you to move your thumb out of its normal grip-supporting position, and both buttons are the same, so you have to feel for the other to know which one you landed on. A little nub on one of the buttons would fix this problem (note what Nikon did with the Fn1 and Fn2 buttons on their cameras; one has a ridge). 
It may sound like I'm complaining, but the R6 was probably the most comfortable I've been with a Canon body on first picking it up, and I grew into the control placements quickly. My hand didn't feel contorted, nor did I feel like I was losing grip or making long reaches to adjust everything as I shot. I'm pretty sure this body would become second nature to me with a little more shooting. 
I know many like the Canon menu system, but I think that's more familiarity than actual analysis. To some degree, Canon menus have many of the attributes people have complained about with the Sony menus (32 "pages" reached via the top scroll wheel, with most pages having five to seven options reached using the rear scroll wheel). What saves Canon compared to Sony is better organization, better naming, and the fact that the touchscreen makes the menu operation fly, a trait Canon now shares with Nikon menus. 
One thing I don't like is that if the camera is not active for shooting, pressing the MENU button doesn't take you directly into the menus, it first brings the shooting display up and you have to press the MENU button again to see the menus. Nikon just lets you press the button once and get directly to the menus from a power save state. (You'd really think that the camera makers would look at the things the others are doing differently and better, and adopt those things, but that happens less often than it should.)
I'm amused that somewhere along the way Canon has thought to add a Help option on the menu item I find most Canon users struggle with, which is the Servo AF menu (AF3). This particular menu is important to master in order to get the best autofocus performance in many situations. With that help Canon's now doing a better job than the others in telling people what the options are really doing and what they might want to set them to. 
There are some oddities in the menus. For instance, you can tap No Raw, No JPEG in Image Quality and press the SET button! You'll get JPEG Large Fine. Some functions aren't intuitive. To set HEIF as your image format, you first have to enable HDR PQ Settings. Rather than have the camera say "you've selected HEIF, that requires HDR PQ to be set, Okay?", the camera makes you remember some of these interconnections. Prepare to study the manual on a number of the deeper and more subtle features.
It's easy to get a totally cluttered display on the R6 (the image below is off the HDMI port, which moves some of the icons outward and leaves others off!). Fortunately, there's an almost clear version for the EVF and a totally clean display for the Rear LCD to be had, as well. 
While it might seem like I'm picking a lot of nits, one thing to be clear about is that the R6 is a high-end camera with a lot of capabilities. With that comes complexity and sometimes small irritations trying to find how to change something.
The camera has good-but-not-great customization capabilities, but did I somehow miss how to customize the Quick menu? The 800+ page manual isn't indexed, so perhaps I've overlooked some customizations, but unlike Sony, which seems to want to let you customize anything to any function, Canon has taken a more modest approach. I was able to dial the camera into my style of shooting just fine, but I wonder if there's more that I might want to customize if I shot with it for more than six weeks.
The articulating rear LCD will probably get grumbles from some of you, but for a camera that so easily goes hybrid between strong stills shooting and solid pro video capabilities, I think this choice was the right one. Moreover, the touch aspects of the rear LCD are quite responsive and useful (Sony, are you paying attention?).
There are some nice touches. Canon got the EVF/LCD transfer right. The camera by default doesn't show playback of the last image taken in the EVF, but will show it on the Rear LCD if you take your eye from the viewfinder. Bravo (ball's in your court, Nikon).
Oh, one final thing: the Mode dial has an Fv position, which stands for Flexible Priority (since when does V stand for Priority? Shouldn't this be Flexible Value?). This is Program exposure mode with a twist (literally). Use the dial to change aperture, the camera switches to something akin to Aperture-priority. Change a shutter speed, it switches to Shutter-priority. Change both? Yep, the ISO value is now in play. I want to use this more to see if it really is as useful as I think it might be, but even if it's not perfect in the current implementation, I can see how this might be perfected.
Overall, a very nice handling camera. Indeed, the best handling Canon I've used to date.
How's it Perform?
Battery: With only six weeks of intermittent shooting—there's a pandemic on, you know—it's difficult to put a precise value on what you might get from the battery. In three long shooting sessions (multiple hours) I was averaging about 400 shots and still having 60%+ battery remaining. I think it's safe to say that most users are going to double the CIPA rating of 380, at least as long as they're not taking one shot a day ;~). 
Buffer: As long as you're using the proper UHS-II cards, JPEG shooters can essentially consider the buffer limitless. Since I wasn't able to shoot my usual sports challenges due to the pandemic, I can't say that the raw buffer could be considered the same, but it's plenty deep enough for me, I think. In the birds-in-flight shooting I was doing, I never hit buffer limits.
Focus: In several of the situations I shot in I sometimes had difficulty seeing what the camera was actually picking for the focus point, as the blue boxes weren't easy to distinguish all the time and they update fast (shooting birds in the sky in backlit situations can do that, but there were some other situations where I had trouble, too, as when only one or a couple of the small boxes light up and quickly moved). The good news is that the camera was usually doing exactly what I asked it to do, even when I couldn't 100% confirm that in the viewfinder or on the rear LCD.  
In general, I'd say the R6's animal detect focus is clearly better than Nikon's, and equal to or better than Sony's now. With people, all three systems do a fine job these days detecting faces and eyes, and I'm not sure that we can distinguish clearly between them in useful ways. It's more likely that you'd have a reaction to how to control which eye is found than how well the camera finds human eyes. 
Most of my focus mis-hits while using the R6 were my fault. I simply wasn't tracking the subject in the viewfinder well (one falcon I was shooting was clocked at 55mph at distances only 20 feet from me; at my advanced age, I can't twist that fast ;~). But if I could keep the framing to include my moving subjects, the R6 seemed perfectly up to the task, and even surprised me at finding eyes on birds and animals moving slightly away from me. 
The following image is cropped, and was taken at 472mm with the far away bird small in the frame and stuffed down in the lower right corner, but note that camera had no trouble finding and tracking the eyes: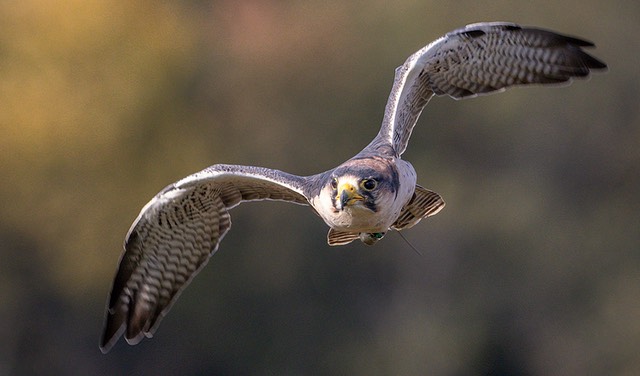 If the image looks like it's been over sharpened or set on a different background, it hasn't. That's just the way the sidelight and distant background were interacting. Sort of makes the bird pop forward off the background.
Stabilization: I'm not entirely sure how to authoritatively test just how good the IS is, but it's really good, particularly with certain lenses. The 100-500mm I was testing at the same time as the R6 provides a combo IS of 6 stops CIPA correction according to Canon. I'm not going to quibble with that. In some casual testing, I was handholding 500mm at lower shutter speeds than I could my Z6 with the 500mm PF and still getting good results.
It probably is worth pointing out which lenses give you "more" stabilization:
8 stops — 24-70mm f/2.8L, 24-105mm f/4-7.1, 24-105mm f/4L, 28-70mm f/2L, 85mm f/1.2L, and 85mm f/2 macro
7.5 stops — 70-200mm f/2.8L
7 stops — 15-35mm f/2.8L, 35mm f/1.8 macro, 50mm f/1.2L
6.5 stops — 24-240mm f/4-6.3
6 stops — 100-500mm f/4.5-7.1L
Note that two of those lenses, the 24-105mm f/4-7.1 and 24-240mm f/4-6.3 are "kit" type lenses.  Generally you don't see this level of stabilization with low cost optics. 
Image quality: One thing I've always appreciated in the Canon cameras is that Canon places more of the tonal curve above middle gray than does Nikon, and that the raw files also tend to have excellent latitude in bringing back detail. I'll give you an example with the R6.
Here's the overexposed JPEG image:
It really doesn't look like there's much that can be pulled out of the all-white areas, right? Well, you're wrong. Here's what I did with a few simple sliders in the same image's raw file:

And that's without really trying to optimize the image in any way. I was simply trying to see if color detail were still there in what looked to be the blown out areas. 
Okay, so let's look at the opposite case, where the JPEG was severely underexposed:

And now let's move a couple of sliders in ACR on the raw version of this file:

But let's go even further. Here I'm pushing exposure by what Photoshop reports to be about four stops (it lies, but that's a story for another day):

There's still more to be pulled out of that eye if I wanted to, and we've yet to pull up any objectionable noise in doing so (the original was ISO 320). 
Where the Canon sensors in the DSLRs—and which gravitated over to the early mirrorless Canon full frame cameras—were decidedly behind Sony in terms of raw file integrity, what I've seen on the R6 is that Canon is right there with the best of sensors now. (I'll note in passing that there's some controversy caused by Bill Claff reporting that Canon is using some form of noise reduction at low ISO values in raw files. In practice, this isn't producing issues in the R6's raw files that I can see.)
Here's ISO 800, with absolutely no Adobe noise reduction (even pulled Color NR to zero):

Not only is the background smooth and free from noise, but detail is rendered nicely and if we go ahead and boost the eye up to see if there's noise there:

I'll take this sensor performance. It's very clean in the ISO range that I tend to use (base to 6400). I didn't have enough time with the camera to see just how far I'd push it in normal work, but from the results I saw in my testing, I'd be very happy with ISO 6400, just as I am on my Nikon/Sony models. 
Which brings me to dynamic range. Canon's long had a reputation for not being as good as the Nikon and Sony sensors, particularly in the lower ISO range up to about 1600. Some of this had to do with differences in how Canon manages the DNs at lower ISO values, which produced more read noise influence. 
Canon's still tinkering with the low ISO values—Bill Claff at photonstophotos reports a low grade noise reduction up through ISO 1600—but the tinkering produces what to me look nearly identical to what I'm able to get out of my Nikon Z6 or Sony A7 Mark III. I simply wouldn't pick either of those models over the R6 on the basis of dynamic range, though technically the Sony is slightly better than the Nikon and the Nikon is slightly more consistent at low ISO values than the Canon. All of them top 11 stops of useful dynamic range at base ISO, and my measurements at higher ISO values seem to just overlap one another, with less than a third-of-stop difference between any of the three at any value. The Sony does suddenly become very visibly noise reduced above ISO 51200, but I wouldn't be shooting any of these cameras at that ISO value except in a dire emergency. 
One thing, though: with the silent electronic shutter I'd avoid the high ISO values or trying to pull up deep shadows. The electronic shutter produces clearly lower dynamic range, centered in the deep shadows. Note also that the electronic shutter is only producing 12-bit images. Couple all that with the potential for light-frequency-sensitive banding in some situations, electronic shutter should be used only when needed, and with care in any frequency-based lighting situation.
Overall, Canon's done a very nice job with this new sensor. It's absolutely on par with its competitors, and considering that we can run the R6 at 12 fps mechanical shutter, the "speed" users are going to like the high ISO output, while I don't think either the landscape and travel photographers are going to balk at the low ISO output, at all.
Final Words
The Canon R6 is a really solid camera. I have no trouble at all recommending it. R users are going to be jealous of this new camera, despite the loss of pixel count. 5D-loving DSLR users are going to take right to the R6 (and the higher end R5). The R6 is as DSLR-like as any mirrorless camera to date, yet manages to add in all the reasons why mirrorless is the future.
Moreover, the R6 is the just-out-of-school budding photographer's lower cost 1DX Mark III. That 12 fps mechanical shutter with an excellent autofocus system is definitely sports, event, and wildlife capable. In JPEG modes, the buffer is essentially endless. But even set to raw, we're talking about long, long sequences before you get to stutter city. 
Meanwhile, the 4K video side of the camera is excellent, as long as you don't need to make really prolonged recordings at the highest settings. And the camera is built well, with solid weather protection (the R5's weather protection is somewhat better, though).
Feature rich, performance heavy, excellent image quality, there's a lot to like about the R6. A lot. Almost everything.
But (you knew that was coming, right?)...
One small issue that can't be ignored with the R6 is its price versus its competitors. While there are things the Canon R6 does better than the Nikon Z6 (and upcoming Z6 II) or Sony A7 Mark III, there are also areas where it's only equal or just a touch behind. Yet this is coming at a US$500 extra cost over the competition at current pricing. That extra cost is going to deter a few customers who should really be considering the R6, I think. I'd say don't fall into that mentality, but that's still a 20% tithe to Canon you need to rationalize. 
Personally, I'm going to switch some of the camera recommendations I've been making to photographers asking for advice over to the Canon R6. Particularly if you're coming from the Canon DSLR world, the R6 is the enthusiast camera you probably want (and the R5 is the one you crave). For someone new to photography or looking to buy their first sophisticated camera, the R6 probably gets my nod as the camera of choice for some of those folk, too. 
The 20-24mp full frame mirrorless market is one of considerable choice now: R6, Z5, Z6, Z6 II, S1, S5, A7 Mark III. Canon came out firing with the R6, and I think they're going to steal some of Sony's thunder with it. Game on, boys. 
Recommended (2020, 2021, 2022)
Support this site by purchasing from the following advertiser: