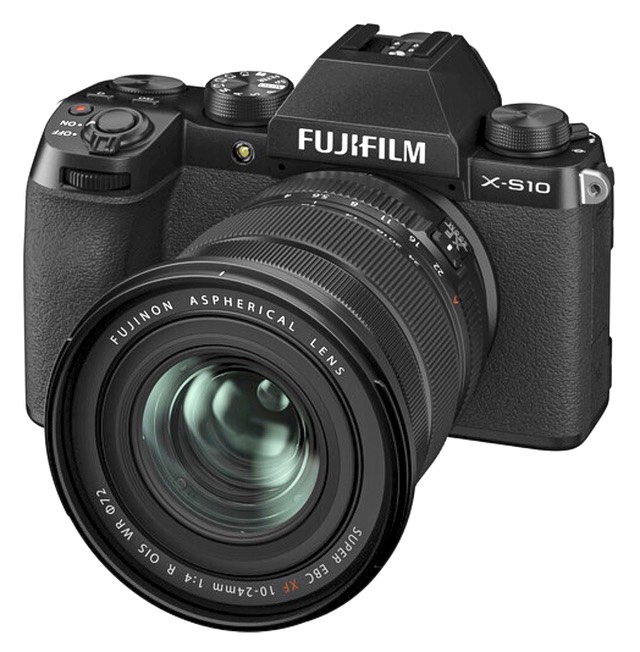 What is It?
The X-S10 is Fujifilm's new entrant at the US$1000 price point (body). It's a 26mp APS-C sensor camera with sensor-based stabilization with a fairly reasonable set of features.
Let's start inside with the sensor. Once again it's the current 26mp X-Trans BSI sensor, with its unique color matrix. This image sensor has been used throughout the Fujifilm line for awhile, and is generally regarded as a strong performer. Base ISO is 160, and you can set up to 12800 in numbered ISO (also down to 80 and up to 51200 in non-numbered ISO values).
While I'm still "cool" to X-Trans, advancements to raw processing with X-Trans files today make it arguably a good choice compared to the 24mp Bayer cameras. I still don't buy all of Fujifilm's assertions about how superior X-Trans is to Bayer, but it's a state-of-the-art image sensor, no doubt. 
The image sensor is basically Sony Exmor technology with Fujifilm's unique color filtration layer. As such, the sensor features copper wiring and dual gain (triggers at ISO 800). Personally, I don't try to distinguish the small differences between cameras with the Sony 24mp APS-C sensor and the Fujifilm cameras with the 26mp APS-C sensor. The X-Trans filtration coupled with slightly smaller pixels is very close to a wash in terms of basic image quality tendencies.
The image sensor is mounted to a five-axis image stabilization system that has been reduced in size from the one in the X-T4. That resulted in the loss of a half stop in CIPA ratings for the IS (now 5 to 6 stops depending upon lens), but I don't imagine (or detect) and meaningful difference in practice. The miniaturization was necessary to keep the body slimmer, so it's a reasonable tradeoff.
The lens mount in front of the image sensor is Fujifilm's XF mount, for which a wide range of lenses are available. Personally, I tested the X-S10 mostly with the 16-80mm f/4, which makes for a pretty practical combination (24-120mm equivalent). My favorite Fujifilm lenses continue to be a small handful of primes, though. 
Autofocus is via on-sensor phase detect coupled with contrast detection, what Fujifilm calls Intelligent Hybrid AF. You might see a claim of -7EV for low light focus, but that's with an f/1.0 lens and only if contrast detect is not being used. Face and Eye detect is supported.
In terms of mechanical shutter, Fujifilm allows 900 second to 1/4000 settings (4 second in program and aperture modes). The electronic shutter will max out at 1/32000, but has some rolling attribute to it. Fastest possible burst is 20 fps, but this is electronic shutter and cropped (1.25x) and somewhat limited in terms of buffer (as little as 17 frames with uncompressed RAW, 79 frames with lossless compressed). With the mechanical shutter you drop to 8 fps, still with a tight raw buffer (18-23 frames; JPEG reaches 105 frames).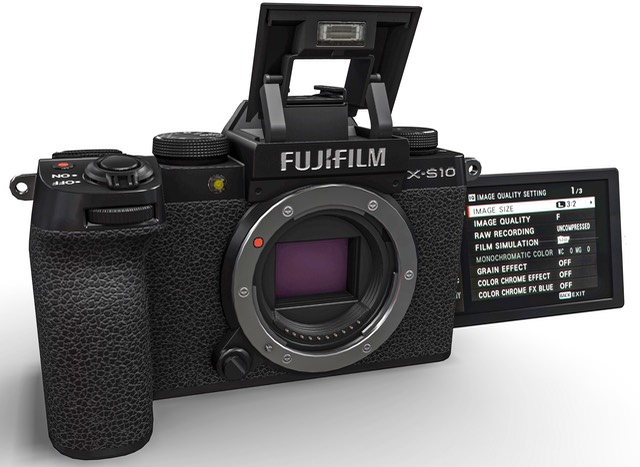 The X-S10 uses a fully articulating 3" 1.04m dot LCD, which has some touchscreen functionality. The internet is full of debate about whether a tilting or articulating rear LCD is better. Both have their pluses and minuses, but if you're traveling with the X-S10 and can't completely keep it protected at all times, being able to reverse the LCD on the back of the camera so that it doesn't get damaged is something I consider useful.
The electronic viewfinder (EVF) uses the 2.36m dot version we see in a lot of lower cost cameras, though it's a little smaller in presentation than some of the others in this class (.62x magnification, though I can easily see the whole frame with my glasses on). The EVF can boost to 100 fps, but this uses more power. 
Up top of the EVF is a small low-power flash that can be popped up. That flash has a GN of 23 ft (7m) at ISO 200, so isn't overly powerful, but still quite useful. Flash sync is 1/180.
Video is reasonably flexible, with both UHD and DCI 4K settings from 23.98P to 30P, including a "real" 24P (a bit unusual these days). Internally that's recorded as H.264 at up to 200Mbps. Fujifilm uses Long-GOP compression, if you're wondering. 1080P goes all the way to 240P, for an excellent slow motion capability, but has a 3-minute time limit. F-log is available, but is 8-bit 4:2:0 internally. The camera does support 10-bit 4:2:2 over the HDMI connector.
The camera has a 3.5mm mic socket, and the camera comes with a headphone dongle that plugs into the USB port (but you can't power the camera via USB when that is active).
Images are stored on an SD card that mounts in the battery chamber. The X-S10 uses UHS-I cards and is limited to 2TB card size.
Connectivity is Wi-Fi 802.11b/g/n with Bluetooth 4.2 LE doing the hand-holding. The USB connection is 3.2 Gen 1 (a USB-C connector). The HDMI is a Type D connector. 
Battery is the usual Fujifilm NP-126S found on the lower and mid-range cameras. CIPA rates this at 325 shots per charge. You can charge the battery in the camera via a USB-C cable and USB Power Delivery source. 
All of this is protected by a magnesium alloy front and top frame. Fujifilm doesn't make specific claims about weather protection.
The Fujifilm X-S10 is made in China and sells for US$999. 
Fujifilm's Web page for the camera
source of reviewed camera: B&H 45-day loan.
How's it Handle?
The X-S10 reverts more to the old Mode-dial approach. In many ways, the user experience (UX) is much like the old Nikon mid-level DSLR approach: dual command dials, on/off switch around the shutter release, a few buttons behind the shutter release and on the back plate where your thumb can find them. Indeed, Fujifilm's marketing at times seems to indicate that they're targeting Canon and Nikon DSLR users with this camera.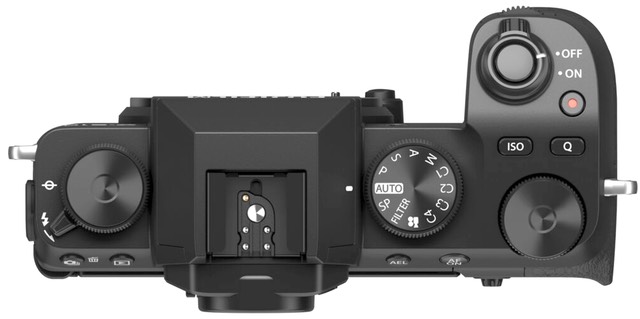 This is not the X-Pro#/X-T#/X-E# UX, which features ISO and shutter speed and other dedicated dials. 
While the Mode dial style is one that is common among many cameras, it's not one that Fujifilm is mostly known for; the X-E4 Fujifilm recently released appears to be much the same internals as the X-S10 in a different, more traditional Fujifilm control style. 
The Mode dial has user customization positions (C1 to C4, akin to Nikon's U1 to U3), an SP (the awkwardly named Scene Position mode), and a FILTER position (with special effects). Again, this is very mid-level Nikon-ish, much like was found on the D5xxx to D7xxx cameras for a long time. 
The SP and FILTER positions are further controlled by another dial on the top left of the camera, though when in the other exposure modes that dial provides quick access to the Film Emulations, a nice and handy touch (makes it very easy to flip between color and monochrome work). 
Since I'm a Nikon user, the X-S10 felt fairly natural to me in terms of handling, at least once I got use to the missing Direction pad (movement of focus sensors, image scrolling, etc., is handled via a thumb stick, which is actually more conveniently located than where Fujifilm used to put their Direction pads).
For a smallish APS-C camera, the X-S10 is at the hefty end of the scale, with substantive weight (about a pound) and a reasonably deep hand grip. Some with big hands using the bigger lenses may find the space between the lens and grip confining, but I was comfortable with it.
The fully positionable LCD is usually my preferred design, but in bright outdoor environments I found it to be very difficult to see clearly.
Customization felt particularly limiting. I really wanted more in that department, because dropping down into the quick menus or the full menu system just slows me down. The buttons the X-S10 does have are small and difficult to distinguish and find by feel, particularly in damp conditions or if you have (even) thin gloves on. If you try to find the Q button by feel, you're going to trip the Record Movie button from time to time. 
One annoying aspect of the camera is that if you don't set up wireless communication to a mobile device, the camera will nag you every time you turn it on, forcing you to press two buttons before you can start to use it. 
A curious aspect of the camera: with the camera defaults in place, during Interval shooting, the camera does a sensor clean between every interval if the interval is long enough for the camera to sleep. 
But overall, the X-S10 handled much like a consumer DSLR, with a few nice touches and a few rough touches. 
How's it Perform?
Battery life: I didn't have time to fully torture test the battery in the time I had the camera. Overall, it didn't seem like it lagged or exceeded the competition. If you leave the camera with the power switch in the on position, the X-S10 does better than many of the other competitor products, because the only thing that will reawaken it from sleep is a press on the shutter release (and then you might be nagged to set up wireless communications!). The net effect of that is that the camera doesn't accidentally activate, and thus conserves its power for when you're using it. 
Given that, I exceeded the CIPA rating in the photography I did with the X-S10, getting into the 400-500 shot range on a full battery cycle. 
Buffer: Even with my fastest SD card the raw buffer just isn't going to impress you, topping out at around two seconds in most cases. Moreover, the camera was slow to fully clear a full buffer. At the price point I would have hoped for a little better, but Fujifilm does tend to emphasize JPEG shooting with this camera, and there I have no real buffer issues (though if you fill it, prepare to wait for it to clear).
Autofocus: you'll hear the beep before the focus sensor illuminates. But, yes, Fujifilm is now in the right league with their autofocus performance, though not quite caught up with the leaders. Canon, Nikon, and Sony still have clearly better focus tracking performance, in my opinion, but Fujifilm's is now in an acceptable range for casual work, and should suit most folk who'd be buying this level of camera. My Z50 tracked better in bright daylight than the Fujifilm, worse in really low light. I also got a lot of near misses when following subjects with the Fujifilm that I wasn't getting with the Nikon. The X-S10 isn't a sports or BIF camera, for sure. 
One thing I found with an all-automatic focus mode on static non-human subjects is that the X-S10 was not picking the same subject as my Nikon Z50 or Sony A6000 (nor always the same subject I would have picked). Indeed, in some circumstances, I had difficulty in getting the X-S10 to ignore the subject it wanted to focus on; even resetting and reframing would tend to produce the same result. This wasn't a terrible thing, but I'd tend to say the X-S10 had more of tendency to pick into the mid-range of the scene rather the nearest subject. 
With human subjects, the X-S10 did fine, and the face/eye detect works quite well as long as the subject isn't moving fast and erratically. 
Image Quality: Yes, the X-Trans sensor tends to be less likely to produce color fringing and moire in fine detail. No, it doesn't eliminate that completely. No, the 26mp X-Trans doesn't provide a substantive dynamic range boost in low light and at high ISO values. Fujifilm's normal JPEG rendering also is a bit more noise reduced than their competitors, too. 
This isn't a knock on the X-S10's image quality. I'm just trying to point that Fujifilm's marketing and messaging tends to exaggerate differences from Bayer-sensors of the same size, 
If you're a JPEG shooter, then one thing that does come into play is Fujifilm's Film Simulations. While I don't find these to be truly faithful to the films they say they emulate, I would agree with Fujifilm that they provide excellent straight-out-of-camera JPEG results. I would also say this, though: take the time to understand the customizations that you can apply to the Film Simulations. In particular, the Color Chrome Effects manage to do some things that some people struggle with in post processing. JPEG shooters will want to apply those while photographing, but it's not 100% intuitive what you should set. You have an overall setting (weak, strong, off) and a blue setting (also weak, strong, off). In some cases, you'll want to use one, in other cases you might use both. But you'll need to experiment and validate what it is you're really interested in so that you can quickly manage these settings while shooting.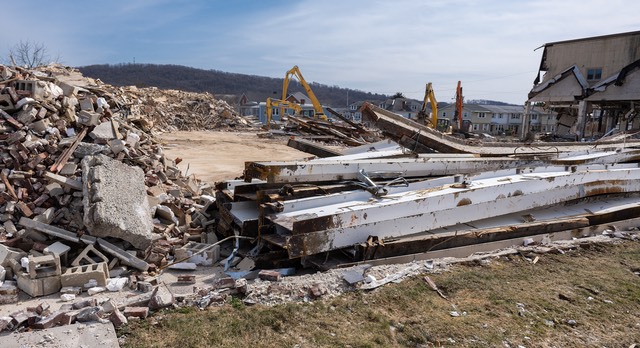 Like most APS-C cameras, ISO 3200 is where I really want to stop if I can, because above that  noise reduction (for JPEGs) really needs to be used, and that starts to rob acuity. That said, ISO 12800 is usable. I'm not sure I'd go further than that.
My recommendation for ISO setting is this: 160 and 800. Both are very good and clean for their value (the latter because of the dual gain approach used at the sensor). Above 800, test and verify what you're comfortable with for the exposures you're setting. As I noted, I'm okay with ISO 3200, but try not to go above that if I can with the 26mp X-Tran sensor cameras. 
I didn't do a lot of video testing with the camera. The X-S10 oversamples 4K, so I found it quite good in casual testing. Not the best I've seen, but really quite competitive. Unfortunately, you can only record 8-bit 4:2:0 internally, so if you're really trying to eek out everything the X-S10 can do in video, you'll need to invest in an external video recorder that can handle 10-bit 4:2:2. F-log recorded that way looked very gradable and extremely good on my quick test. Curiously, the 1080P video seemed less good to me, which means that Fujifilm's downsizing method either needs improvement or they're sampling the sensor differently at 1080P. 
Final Words
Nice camera. Very nice camera. The Fujifilm X-S10 is likely as much camera as most people really need, though it's not a top-ender in anything. The build feels robust and the feature set is reasonably deep. Image performance packs in Fujifilm's excellent JPEG rendering, though I don't think this sensor is quite as good in really low light as some people suggest.
Thing is, you can find a lot of cameras at or near the US$1000 price point these days, ranging from m4/3 bodies (the E-M5 Mark III often hits that price point) to even full frame cameras on sale (e.g. Canon RP). Thus, making a decision isn't quite as simple as trying to figure out if the X-S10 is the best US$1000 APS-C camera for you (I'd tend to also suggest the Sony A6400 or Nikon D7500 DSLR at or near this price point if you want APS-C; both are very different takes on APS-C that have other strengths compared to the X-S10).
But again, the X-S10 is very nice, and a lot of you will find its feature mix and performance is the right combo for this price point. A solid single up the gap. 
Recommended (2021, 2022)
Support this site by purchasing from the following advertiser: