Yes, it took a long time to finish this review. Why? Because I wanted to spend some time further evaluating how 61mp compares to the 42-45mp cameras a bit more carefully, and then the pandemic intersected with some of my final shooting plans. The issue I wanted to explore more is that lenses, light, and other factors can impinge on the actual results with such high pixel density. More in the Performance section near the end of this review.
What is It?
The Sony A7R Mark IV was a bit of a surprise when it appeared in early 2019, as this meant the A7R was suddenly on a less-than-two-year update cycle. Moreover, the Mark III was a popular camera, and considered one of the best interchangeable lens cameras you could buy by many, including myself (I named it the second-best ILC you could buy at the time, with the Nikon D850 being first). 
As usual with Sony, the Mark IV update added a lot of tech. Specifically, a 61mp full frame image sensor (up from 42mp) that was fast enough to offload 10 frames a second or shoot full frame 4K (sub-sampled, though). Inside the Mark IV got a better 5.8m dot OLED EVF (up from 3.7m). 
What was surprising to some—but predictable considering the A9 changes—was how much of the non-tech things Sony addressed. The Mark IV body got a bigger hand grip, better and more findable buttons, and a host of other features. I wasn't expecting such a "major upgrade" with the Mark IV in such a short time frame, and I don't think others were, either, thus the A7R Mark IV got a lot brag rights and fan hype on the Internet at its launch because of that.
But all is not exactly as it seems. As I've pointed out before, the footnotes in Sony's press releases tell a slightly different story, so read on carefully.
So let's start with frame rate, which illustrates why you have to pay close attention to Sony's notes. Technically, the A7R Mark IV can shoot at 10 fps, and that's what you'll see claimed in many places. Footnotes: not with the EVF or LCD active (drops to 8 fps, or 7 fps with "accurate AF/AE tracking for up to seven seconds"), not with 14-bit raw (drops to 12-bit), and not with uncompressed raw (drops to compressed). Considering all those footnotes, you have a camera that can shoot at 6 fps with no limitations. Not bad, but certainly not the 10 fps that is usually trumpeted.
The Mark IV's image sensor is a typical Exmor R, using back-illumination to get a 100% fill factor. 61mp means the results are 9504 x 6336 pixels in size. The image sensor is mounted on Sony's 5-axis image stabilization platform, which provides 5.5 stops of IS (CIPA rating). The IS system also is used to implement a pixel shift function, which can now record 4 or 16 shifted images, creating up to a 241mp image (19008 x 12672 pixels) (the Mark III could only do 4-image shift).
You can now select 4:3 and 1:1 crops (as well as the regular 3:2 and video 16:9 crops). For raw files, a crop tag is put in the EXIF data, but the full raw frame is recorded. This is the way I prefer it (Nikon, for instance, writes only the cropped data in raw files). In APS-C crop mode, you get 26mp images.
The autofocus system now covers 74% of the frame, with near full short axis coverage but some coverage missing on each long-axis edge. 567 phase detect areas are selectable (as with the previous Sony mirrorless models, phase detect is implemented on entire rows of pixels, but you can't select a single pixel for focus). In APS-C crop mode, autofocus coverage covers basically the entire area (and drops to 325 selectable PD areas). Both eye detect and animal eye detect is available, as are all the usual Sony modes and options. Focus sensitivity is rated at -3EV (at ISO 100 with f/2 lens).
Meanwhile, video specs look good at first glance: 4K/30P from the full frame. Footnotes abound: pixel-binned (lowers apparent resolution), while the "Super35" cropped size changes with frame rate (1.6x at 24P, 1.8x at 30P, which Sony marketing often claims is 1.1x or 1.2x additional crop, which is misleading). At 1080P, the Mark IV can record up to 120 fps. 
Sony has implemented S-Log 2 and 3, as well as HLG. Top bit rate internally is still 100Mbps, and uses XAVC S compression (MPEG-4 H.264). Video in the Mark IV was the first Sony camera to allow Eye AF. Note however, that the video is 8-bit both internally (4:2:0) and when output via the HDMI connector (4:2:2).
The EVF is now basically a UXGA monitor (5.8m dots). Refresh rate is either 60 or 120 fps, and the magnification is still 0.78x. The eye point is 18.5mm from the eyecup, and diopter adjustment from -4 to +3 is built-in.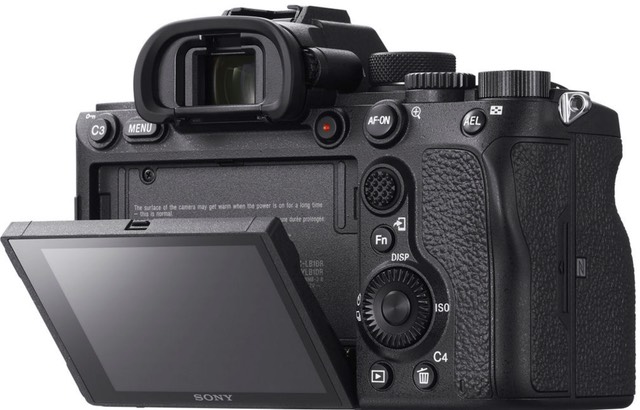 Out back we have a 3" tilting touch LCD with 1.44m dots. The touch system is still somewhat limited, though, and the tilt angle goes up to 107° and down by 41°, the latter being slightly limiting.
Curiously, Sony reworked the shutter mechanism, and claims that this was done to reduce shutter shock. The new mechanical shutter is a bit quieter than before, too. Shutter speeds to 1/8000 are supported, and flash sync speed is 1/250. Electronic first curtain shutter is supported, though Sony's options aren't as extensive as with some other brands.
One piece of very good news is that Sony opted for matching dual UHS-II card slots (and renamed the slots so the top one is now Slot 1, which is what you'd expect). While UHS-II isn't a perfect solution and the A7R Mark IV doesn't seem to write as fast as my fastest cards are capable of, it's generally good enough for most uses. One little new feature that I welcome is that you can now save up to 10 setting files on an SD card.
Connectivity is provided via Bluetooth 4.1 and 802.11ac Wi-Fi for wireless use and Sony's mobile apps. The wired connection is USB-C 3.2 Gen 1 (which also supports FTP transfers and USB charging). The HDMI connector is the small Type D (micro) one. Unique to the A7R Mark IV is a digital audio interface built into the hot shoe. Both mic and headphone jacks are also on the camera.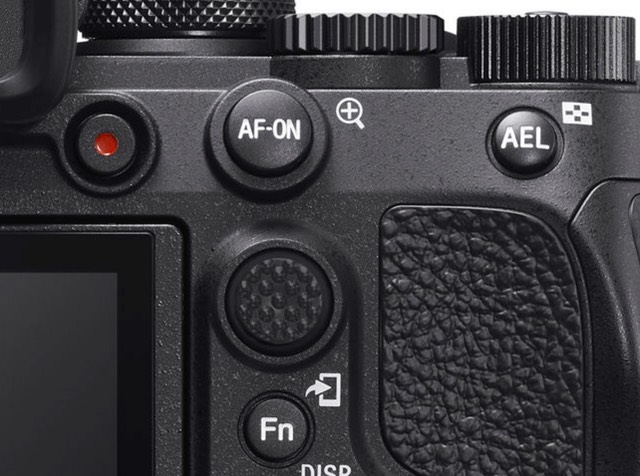 The A7R Mark IV body has a deeper hand grip than previous models, the AF-ON button is now larger and raised and easier to find, and both the exposure compensation and rear command dials have been redesigned. At first glance you don't notice the changes, but in the hand you most definitely will feel them.
Sony has made the Mark IV's body more weatherproof with better dust and moisture sealing, particularly on the bottom of the camera and at the card slots. The camera uses the NP-FZ1000 battery, which rates at 530 shots CIPA using the EVF. An optional VG-C4EM Battery Grip is available that holds two batteries, as is a NPA-MQZ1K Multi Battery Adapter that can hold four batteries.
Despite all the changes in body design, the Mark IV only gains 8g (0.3 ounces) in weight and only some minor millimeter changes in size. Total weight is 23.5 ounces (665g).
The A7R Mark IV was originally launched at US$3500 (now typically US$3200), and is made in <tk>
Sony's page for the A7R Mark IV
Source of reviewed camera: purchased
How's it Handle?
Okay, Sony's been doing some listening. 
The hand grip feels better than before, though some with big hands will still find many lenses are impinging on your fingertip space. But the grip is bigger and the material on it grippier, both of which make the hand position feel more secure and relaxed.

The AF-ON button is now raised and far easier to find. It can even be found with thin gloves. Likewise, the rear dial is easier to find by touch, as well.

The thumb stick is now more a thumb nub. It's easier to find by feel due to texture, and on my samples, more easily moved diagonally than before.

The Exposure Compensation dial can be locked, removing the chance of accidentally dislodging it during rough handling (or missing the rear dial and accidentally moving the compensation dial instead).

The card slots are now matched in speed, which was necessary to keep the camera from slowing down using the backup option, which is the most likely use of a second slot.

The EVF is higher resolution, and that was needed for the A7R bodies long before we got to 60mp. Manual focusing is now easier to do more accurately in DMF mode, for example.

As I suggested in my Configuring the Sony Mark III book, Sony has promoted the help system to a button by default (but see below).

Still and video customizations are now separately remembered.

Some of the things we've seen in other Sony cameras and firmware upgrades are present, too. For instance, the ability to change the color of the active focus point.
And then again, they've been ignoring users, too:
The menu system is as poorly named, organized, and accessible as ever before.
The touch screen implementation is still the worst of any serious camera. Just implementing using touch for the menus would have been a big plus, but it's not there.
The help system often consists of messages like "DRO. Sets settings to optimize gradation." Huh? DRO = Dynamic Range Optimization. First, spell it out; second, tell us what it really does (boosts shadows and brings back highlight detail).
Overall, the handling of the A7R Mark IV is much improved. Once you make it through the still somewhat cumbersome process of getting the camera configured the way you want it, the A7R Mark IV feels better in shooting. Most of the rough edges in previous A7 models will be forgotten. Those with large hands may still want an optional grip, though, as the A7R Mark IV is still a fairly small body, particularly in height.
Some of the differences seem trivial on paper, but I'm much more comfortable shooting with the Mark IV than I was with the Mark III, and I think you will be, too. 
How's it Perform?
Battery: Battery life is decent, all things considered. In exhaustive testing, with a lot of use of additional features such as pixel shift shooting, I didn't quite hit the 530 mark most of the time, but close enough (range of 450-500 through multiple sessions). That's with a lot of file size having to be recorded shooting raw. Battery performance seems just fine for the most likely uses of the camera (e.g. landscape, architectural). It's difficult to imagine someone using the camera for more images a session than the battery is capable of reaching. 
Buffer: This is a little trickier to report than usual, as there are some things that happen when you try to push the A7R Mark IV into being an action shooter (realistically, buffer is generally not an issue for casual shooting on most cameras these days, and the A7R Mark IV is no exception there). First, with action the camera may drop to 12-bit file;, and second, the EVF or LCD will force you down to 8 fps (from 10 fps) if you use them. Next, Sony still has the "some things must wait" problem when you fill the buffer, and even with UHS-II cards a full buffer can take almost a minute to fully clear (best case was 30 seconds with my fastest card with just the right settings).
That said, the buffer is respectable enough to make the A7R Mark IV useful, but not optimal, for action shooting at 6 or 7 fps. Sony claims a maximum buffer of 68 frames in most JPEG and raw settings. Be aware that uncompressed raw will drop the buffer to 30 frames, though. So worst case is typically 8 fps for a bit less than four seconds of shooting.
Focus: Sony has been upping their game consistently in terms of autofocus capability. The A7R Mark IV is basically the second-best in Sony's lineup now (the A9 Mark II is still the best, benefiting from the faster sensor data offload, faster EVF updates, and a few other details). Moreover, the Mark IV ups the frame coverage for autofocus from the III's somewhat restrictive 68% of the frame to 74%. While that doesn't seem like a big boost, it is a noticeable one. 
Quirks still exist in the Sony autofocus system, though. Because Sony normally focuses at the shooting aperture—Nikon restricts this—when you stop down you're also making the autofocus system less capable due to less light getting to the now-smaller focus pixels. You can force the camera to focus with the aperture wide open, but then you have two issues: many Sony lenses have some focus shift to them as they stop down, and there's now a small and noticeable lag as the camera stops down the lens when you press the shutter release.
As I've written before, for someone that wants the camera to do the thinking and control for them, Sony's autofocus implementation is probably the best of the major makers, though these days only be a slim margin. I do think Sony's algorithms are better at tracking whatever they're tracking in real time, but I keep finding that Sony cameras often will "miss" the desired focus plane by a small amount (typically within the DOF), where others don't. So eye focus can be pupil focus, eyelash focus, or eyebrow focus, and this isn't perfectly predictable. I prefer me being in control, and once I'm in control I don't find the Sony's autofocus system to be particularly better than Nikon's. 
Overall, the autofocus performance of the Sony A7R Mark IV is very good, even in the all-automatic modes, but not perfect. What I notice with a lot of folk praising Sony's autofocus system is that it does better on all-automatic than that person has been able to achieve with them being in control with their previous camera(s). That speaks more to those users' technique more than autofocus performance, though.
That said, I'm perfectly happy with the A7R Mark IV's focus system. But I'm typically not using it in the "let the camera do it's thing" modes, I'm controlling it. The only downside to my micromanaging autofocus is that Sony has a ton of autofocus setting options that are scattered to the wind and have strange wording in their settings, so it takes time to master the camera to make it do your own bidding.
Image Quality: Before we get to some conclusions from actual shooting, we need to talk a bit about something else. 
Nikon was so worried about shot discipline and lens use when they introduced the 36mp D800/D800E combo back in 2012 that they put out a detailed PDF about how to achieve best results from the camera. That D800/D800E Technical Guide had sections on keeping the camera stable, avoiding diffraction, choosing the right focus method, and picking appropriate lenses.
If a camera company considered that there might be a shooting problem with 7360 pixels across the horizontal, imagine what they might be saying when you've got 9504 pixels (a 29% increase)? 
Let's start with diffraction, which will alias edges and detail, something you probably want to preserve if you're looking at getting a higher megapixel camera. There's no 100% agreed-upon theory about exactly how well digital cameras record and succumb to diffraction, but the two methods I tend to use in evaluations both say this: on a 24" print looked at from 0.5m, the A7R Mark IV would be clearly resolving the diameter of diffraction's Airy disc by f/8. 
If you're not making 24" prints or larger, I'm not sure why you'd want an A7R Mark IV. That's the conundrum you need to resolve before considering this camera. Earlier versions of the A7R, and even the 24mp A7 Mark III, should produce fine results for most people up to that size. 
One advantage of using a camera for awhile and not trying to be the first to review it is that I can—and do as sort of a last step in editing my review—look at what others have done with the product I'm reviewing. Here's what I see with the A7R Mark IV: most of the images I see being promoted—other than some measurbating attempts to pixel peep out extreme detail on fixed subjects—didn't need a 61mp camera. You wouldn't really get any tangible advantage in having more pixels for most of the sample photos I've seen, unless you're printing bigger than 24", and even then, the advantage is small.
Next, we have keeping the camera stable. The A7R Mark IV has a number of ways to help you here, but if you're really trying to get everything you can out of those 60 megapixels you need to be using a remote release with the camera on a very secure platform (e.g. tripod), typically with electronic first curtain shutter enabled. Yes, I know the camera has sensor-based image stabilization. But image stabilization is a "gain" only up to a certain point when it comes to handling stability. As I've oft-repeated, all stabilization systems tend to have an aliasing impact past a certain shutter speed. My observation on the A7R Mark IV is that the camera is capable of much more than you can get from it by hand-holding it with IS turned on.
How you focus is going to make a difference, too. Sony's Eye AF doesn't always cut it for me: too many cases of the system grabbing the eyelashes or something other than the pupil. Unfortunately, this is sometimes more pronounced on the A7R Mark IV. At 61mp and wide apertures, missed eye focus showed up more often in my testing, and visibly so at sizes where you'd need all those pixels (e.g. large prints or deep crops).
And finally, there's the issue of lenses. I knew that some of the lenses in my Sony FE stable had field curvature or focus shift in them. That got much easier to see at 61mp. Given that the A7R Mark IV doesn't have a focus stacking feature, this means that you're going to have to pay some close attention to what your lenses are doing, and minimize both problems (easier done with focus shift than field curvature). 
Likewise, I found that not all the Sony lenses I had that I thought were free from damaging de-centering or element tilting, weren't. There's little reason to go to 61mp if the lens you're going to use is de-centered enough that one side of your image won't resolve as much detail as the other. 
This is a long-winded way of saying two things: (1) it was far tougher to test the A7R Mark IV than any previous ILC I've used and be sure I was getting the very best results I could from the camera; and (2) if you're not willing to pay attention to these same things, you're probably better served by a recent Sony A7 model with fewer pixels.
Okay, so let's get into what I saw while using the camera.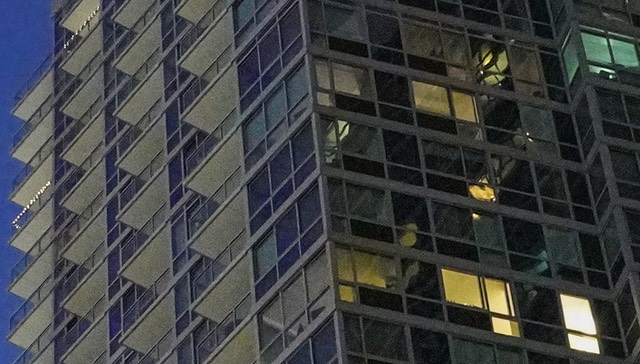 Landscape shooters are used to "lifting the shadows" in post processing. While the files from the A7R Mark IV are quite capable of heavy lifting in one sense, in another they're not: the smaller pixels of the Mark IV compared to the Mark III mean that you pull up visible noise with less boost. At base ISO this isn't a terrible problem as long as you keep the boosts modest, but at any higher ISO you will definitely find yourself limited in how much shadow detail you can recover after the fact.
This is one of the tricky aspects of equivalence. If we were to view a Mark III and Mark IV image at the same final printed size that's no more than the maximum size a Mark III can produce (e.g. pixels printed at 300 dpi), you wouldn't see the difference. That's because you've pretty much collected the same amount of light over the same area. But if you bought the Mark IV to print larger (or crop more), the per-pixel noise will become obvious at some point.
You might wonder if the opposite is true: is there any advantage to the Mark IV image when looked at in the maximum final print size of the Mark III? Yes, though it's slight. I see a very small gain in acuity. That's typical of downsizing an image, but if you're shooting near or beyond diffraction impacted apertures, that gain might not be there at all.
One thing that I seem to see in the Mark IV output that's an improvement over the Mark III is that colors don't block up as fast in JPEG shooting at higher ISO values. Sony's been tweaking BIONZ for some time now, and the results show up as small gains like this.
If 61mp isn't enough for you, then the Mark IV also features pixel shift (as did the Mark III). Some of you are probably wondering whether this makes the camera get into medium format quality. The answer is yes and no.
First, Sony's implementation of pixel shift leaves a lot to be desired. The resulting files are huge and require special software to deal with them, and Sony's own software is not particularly easy to use or good in its results. Do yourself a favor and get PixelShift2DNG, which will make your life simpler and allow you to use your normal raw converter (okay, at least most of them; any that supports DNG).
Assuming that you have no movement in the scene when you record a pixel shifted photo with four images, what you get is this: less noise and a small, but clear improvement in edge acuity. Some say you get better color, too, though I don't see that for well exposed images. Wait, what, no "extra resolution"? No, not particularly. What you're really doing with a four-file pixel shift is removing the Bayer demosaicing impacts. 
There's also a 16-file pixel shift mode that generates 240mp images. This mode does clearly add resolution, but it has a ton of drawbacks (file size, workflow complexity, and both motion and processing artifacts). You're going to have to be very refined in your technique to get everything out of the 16-file pixel shift mode, and you're going to spend a lot of time post processing, and then pixel peeping trying to find and eradicate artifacts. Some architectural and landscape shooters may be willing to do those things, but for pretty much all other uses I'd say avoid the extreme pixel shifting capability.
Okay, so with all that said—actually written—what do I really think of the Mark IV's image quality? Nice. Very nice. I've started shooting with the four-shift method for landscapes, architecture, macro, and static travel shots. This slows me down, both in shooting and in post processing, but the results in doing so are a clear step above the 45mp cameras. Except...
Lenses can get in your way. I don't have a large stable of Sony lenses, but doing pixel shift at 61mp sure as heck revealed the ones that weren't de-centered and had excellent edge to edge performance. The new 20mm f/1.8G turned out to be one of my favorites, but I sold off a couple of my other lenses because of small de-centering and poor corner performance.
Handheld, with moving subjects? I don't see the point of the extra pixels, really. The resolution gain doesn't come without drawbacks. One of the things that a number of folk keep telling me is "but I have more flexibility in cropping." Not without starting to see per-pixel noise, you don't. I've long argued that you should use the right lens in the first place, and this is one of those things that makes me argue that. 
After using the Sony A7R Mark IV for so long, my bottom line is this: the pixel gains at the sensor made the A7R a little less an all-around camera, and a little more a speciality camera. The Mark IV is arguably the best choice for landscape, architectural, and a few other types of photography because of that. But it's now arguably not quite as good a choice for other types of photography, such as event or action types. 
Thus, I can't say that the A7R Mark IV is the second-best—or best if you were hoping for that—all-around camera you can buy. We now have several cameras that I'd tend to say fit the all-around mode better (e.g. Canon R5, Nikon Z7 and D850). Indeed, if pixel count isn't really in play for you, then even more cameras come into play for the all-around championship. 
Would I give up my A7R Mark IV for something else right now? No. You'll have to pry it from my hands. For landscape work, it allows me to push a little further than I can with the Nikon Z7. That Sony 20mm f/1.8G is also really good, and the combo of Mark IV and 20mm reminds me of my time being tutored by Galen Rowell: small, compact, and capable lets you get shots you can't get when you lug too much gear around.
Final Words
I'm going to cut right to the chase: most of you will be better served by a different Sony full frame camera (or a Canon, Nikon, or Panasonic one). 
I've been clear in writing the past couple of years that I believe that the Sony A7R Mark III (the previous model) was the second best all-around camera you could buy at the time (the Nikon D850 being the best). You'd think that a Mark IV model might improve that, no?
As I've noted, it does and it doesn't. I believe that the A7R Mark IV is a bit more restrictive as an all-around camera in some ways, less restrictive in others. You're generating a ton of extra storage bytes to get what? Well, better large prints with excellent detail, basically. Frankly, as a general purpose camera, the large file sizes and some of the footnote limitations of the A7R Mark IV just don't cut it for me. Slower to write, slower to transfer, slower to process, and for what gain unless I'm meticulous in shooting and doing large print work? None that I can reliably see. If you're thinking that 61mp means you can crop more for sports and wildlife, the per pixel noise levels may bite you if you're too aggressive in cropping. That's the "more restrictive" side of things.
On the less restrictive list we have a few things: better ergonomics mean the A7R Mark IV performs in your hands better as a general purpose camera, the 6 fps shutter for 14-bit uncompressed raw makes for a nice upgrade, we have new 4:3 and 1:1 crop modes, and an arguably better viewfinder for almost any kind of shooting you might do, 
Thus, the real questions become fairly simple with the A7R Mark IV: do you need the extra pixels, are you willing to live with the extra bytes that will chew up, and can you manage the camera in a way that the reality of that 61mp actually gets shown in the final result?
For landscape and architectural shooters, sure. Having tested the Fujifilm GFX 100 at the same time as the Sony A7R Mark IV, I know that some might spend the extra bucks and go medium format, though. Moreover, Sony doesn't provide a focus stacking feature, which I'd definitely want, and the Fujifilm has that. 
That said, there's plenty I do really like about the A7R Mark IV  The ergonomic changes are all highly welcome. While many of them are subtle, they get the basic A7 body up to a level I now feel quite comfortable shooting with (now Sony needs to address the menu system in a similar fashion [that appears to be pushed off to the next generation given the Sony statements at the A7S Mark III release]). 
The focus system has gotten better for you all-automatic users (though this seems not particularly necessary in a camera shooting this level of detail; if you're resolving detail, you want more precision and control rather than more convenience). The EVF is the best so far from Sony. Having matching card slots takes away a performance penalty most were ignoring. 
But you know what? I want all those improvements in a camera with the 42mp sensor (and also in a 24mp sensor model). And I want some different improvements in any camera with a 61mp or greater sensor (e.g. addition of focus stacking, in-camera multi-shot production that doesn't require kludgey post-processing software, and a better targeted and nuanced Eye AF). Instead, Sony gave us the A7R Mark IV, which misses on those things as well as a few others. 
I actually had to make a very tough decision here as to whether to keep the A7R Mark IV in my gear closet and retire my A7R Mark III. Fortunately, Nikon made this an easier decision for me, as the Z7 is as good an all-around camera as the A7R Mark III. Thus I've kept the A7R Mark IV, but mostly for landscape work.
I'm slowly becoming a Nikon/Sony dual system shooter. But one thing I've noticed is this: the choices I'm making in the Sony world are ending up more for special purpose (e.g. A9 Mark II for sports/wildlife, A7R Mark IV for landscape, maybe the A7S Mark III for video) than general purpose (e.g. A7 Mark III). My general purpose go-to cameras now are the Nikon Z5, Z6, Z7, and D850.
You probably already can guess my summary point: the Sony A7R Mark IV is a very good camera, but it mostly is going to appeal to a more limited audience that can appreciate (and manage) the extra pixels. With the A7R Mark III selling for US$1000 less than the A7R Mark IV as I write this, a lot more people would be better served by buying the earlier model and putting the money they saved into a good lens.
Recommended (2019, 2020, 2021, 2022) (conditional upon use)
Support this site by purchasing from the following advertiser: