What is It?
The big news is that the A7Rm3 gets the same new battery and body style pioneered in the A9, and now also present in the A7m3. This increases the camera size and weight slightly, but also provides not just a better hand grip, and also much better battery life with the new NP-FZ100 battery (nearly double the previous A7Rm2). CIPA rates it at 530 shots with the most rigorous test.
We also get a few small "extras" that weren't on the previous A7R models: bluetooth, flash sync socket (see above), USB 3.1C, a joystick to control focus position, some LCD touch ability, twin card slots, and so on.
Focus is now 399 point phase detect, with a 425 point contrast detect fall-back. One difference between the A7m3 and A7Rm3 is in overall coverage. The lower cost A7m3 has about 300 more phase detect focus points and covers over 90% of the full frame, while the A7Rm3 only covers about 68% of the frame. Both the Mark III models are mentioned as being faster in focus than the Mark II models. Plus we now have a joystick to move the focus point, which makes picking where to focus faster, too.
The low-light capabilities are better than the previous model (now -3EV at ISO 100 with an f/2 lens compared to -2EV with the previous model). Eye detect has been added to face detect focus, and can be quite useful in certain situations. Sony makes a number of claims about tracking performance—a lot of 2x claims to be exact—and that's more of an indictment of the older cameras than saying something exceptional about the new ones. (More on that in the focus performance section.)
One thing that doesn't get a lot of mention is that Sony redesigned the shutter mechanism between the Mark II and Mark III models. The new shutter is rated to 500k activations, and should not be as impacted with shutter shock at lower shutter speeds. Weather protection was improved slightly from the Mark II to the Mark III bodies, though the Sony A7 cameras are still somewhat vulnerable to water ingress through the bottom.
What hasn't changed is the pixel count, or even the sensor technology itself. Most of the performance changes Sony points to with the A7Rm3 are due to downstream processing, in particular the new downstream CPU and re-tuned BIONZ chips. We're still using the same 42mp BSI Exmor inside, which produces 7952 x 5304 pixel images. ISO remains with a base of 100, though it gets a slightly higher top rating (32000) due to changes in image processing.  We also get 10 fps instead of 5 fps, including in a silent mode, which is a great spec for a 42mp camera. Internally, the on-sensor image stabilization has improved from 4.5 stops CIPA to 5.5. 
The EVF has a 3.7m dots with a 0.78 magnification, and a 23mm eyepoint (18.5mm from the rubber eyecup, however).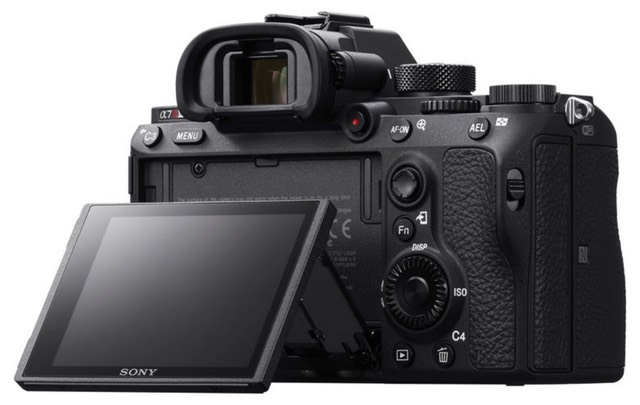 We now have some modest touch abilities on the 1.4m dot rear 3" LCD, but they're a bit laggy compared to the competition. Generally, you are going to turn them off unless you're shooting in a controlled, static situation where you want to point on the LCD for focus and shoot.
USB 3.1C means that tethering and file transfers are faster than before.
The earlier PlayMemories App stuff is gone. The A7Rm3—plus the A9 and A7m3—have dispensed with that to basically provide a straight Wi-Fi with NFC/Bluetooth connectivity. As might be surmised given that Sony also makes Android phones, I'd say that the Android implementation with NFC is a bit easier to use in practice than the iOS version with Bluetooth, but both work decently for simpler tasks.
Unfortunately, Sony relied upon PlayMemories for some useful camera functions, such as Time-lapse. They did not add that function into the camera, meaning you have to use an external intervalometer to do such shooting. 
Video shooters will likely be a bit disappointed with the 4K specs. While the regular 4K takes in all of the sensor width, the actual 4K data is produced by pixel binning, which tends to antialias the data and produce slightly less distinct edges. The other option is to use the 1.5x crop, where the crop area is oversampled (5K). Good news is that uncompressed 8-bit 4:2:2 is available on the HDMI port (up to 4K/25P), and we have a new S-Log3 gamma that's even flatter than the previous S-Log and S-Log2. We also get the HLG mode (see my notes on that in the A7m3 review). I'm not a fan of Sony's XAVC codecs, which are the default, but neither do I like the AVCHD alternative the camera allows. 
1080P allows up to 120 fps, which can be conformed back to 24 or 30 fps for in-camera slow motion. 
Finally, I haven't much written about "construction" with the A7 models. The A7Rm3, like the other recent Sony full frame mirrorless cameras, uses a multi-part alloy construction (above). What I mean by that is that it isn't a one-piece "frame" as has been used in many DSLR designs, but rather a series of "plates" that assemble together. 
One thing you might notice from the above is that a complete bottom plate is missing. Indeed, that is one area where the Sony design is a little weak. It's easy enough to seal off the holes and joints in the other pieces, but with the separate tripod socket plate and battery compartment on the bottom of the camera, it's a bit tougher. Others have reported, and I can verify, that the sealing is reasonably good other than on that bottom plate. 
The A7Rm3 is made in China and lists for US$3200. Unlike the A7m3, the A7Rm3 includes a full battery charger instead of a USB cable and wall wart.
Source of the Review camera: purchased
Sony's Web page for the camera
How's it Handle?
I could repeat everything I wrote in my Sony A7m3 review here. I'm not going to. I suggest that you go over to that review and read the How's it Handle section there, as what I wrote in that review absolutely equally applies to the A7Rm3.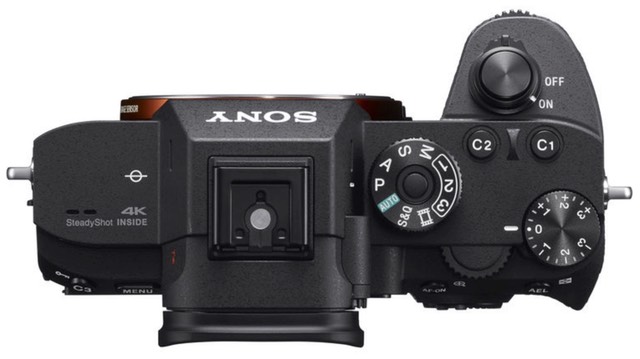 Instead, I'll add remarks about things that are more unique to the A7Rm3.
One thing that is noticeable between the A7m3 and the A7Rm3 is the EVF. The higher-priced A7Rm3 simply has a better EVF (3.7m dots versus 2.4m dots). Features like focus peaking are still relatively crude tools in the mirrorless cameras, though. When you're trying to evaluate 7952 x 5304 pixels in a 1280x960 viewfinder, it gets difficult to make fine levels of discrimination. Frankly, I feel that the A7Rm3 really needs even more refinement in the EVF than it has, particularly given its pixel count increase over the A7m3. 
The twin card slots start to be even more important with all those pixels, too. Unfortunately, since one slot is UHS-1 and the other UHS-II, there are performance issues related to using both slots simultaneously. Moreover, configuring the slot usage isn't as straightforward as it is on, say, the Nikon DSLRs.
One thing I didn't mention in my A7m3 review that's still problematic on the A7Rm3 is that when you move the focus point via the joystick, it's done with a very dull black bracket. Even on the A7Rm3's better EVF this is hard to see at times. Strangely, using the rear LCD as a touchpad makes the focus point colored, and easy to see. 
Pixel Shift is a mess. First off, make sure that you assign Pixel Shift to one of the custom buttons, because otherwise you're going to be menu-diving every time you want to use or cancel it. C3 seems like a reasonable choice, as it's out of the way and not likely to be accidentally triggered. Sony also suggests using remote triggering, which is actually a good idea: you won't be using this feature handheld and to get the full benefits you really need the camera as stable and vibration free as possible. 
The camera actually sets electronic shutter with Pixel Shift—be careful of frequency-based light sources—and puts a long pause (minimum 0.5s using remote, 1s using camera only) between shots, making it less than useful for many subjects, even landscapes if there is any movement in them whatsoever (leaves, clouds, etc.). 
What you get when you shoot with Pixel Shift isn't a completed image, though. Instead, you get four very large uncompressed source files that allow you to then use a software product—Sony supplies a terrible Imaging Edge Software program for free—to create a new file with an .ARQ extension. (Hint: my friend Iliah Borg has produced a better software program, called SonyPixelShift2DNG that does a better job.)
One thing I didn't mention in the A7m3 review's handling section is this: you can't save your button and dial setup to a card, then restore it to another camera. You can't do that with two identical cameras, nor can you do it with two family cameras of the same generation (e.g. A7m3 and A7Rm3). This is a serious omission that needs to be fixed if Sony really wants to cater to the advanced enthusiast or pro community.
How's it Perform?
Battery life: It depends upon how you're shooting. I've gotten battery results that are right around the tougher CIPA mark (530 shots), I've gotten double that at times. It seems to depend upon how much you're shooting bursts versus single images, as well as how much reviewing images you do. Framing using the rear LCD results in a bit better battery life than using the EVF, which is in line with Sony's specs. Burst shooters will tend to get far better battery life than the one shot, wait, one shot, wait shooters. 
Note also that, like the other recent Sony models, the rear LCD is set to a fairly dim level by default. You can change that to work in sunny conditions, but there is a small but clear battery hit in doing so, thus you need to minimize your rear LCD usage some if you elect that option. Likewise, there seems to be a small power hit for pushing the EVF refresh rate to 120 fps over 60 fps. So be aware that your mileage will definitely vary from both what Sony reports and what I write.
That said, it used to be that I was carrying three or four batteries around to make sure that I could complete a day's shooting with the Mark II generation Sony bodies. Now I only carry two, and I rarely dip into the second one. 
Video shooters need to pay more attention, though. You're pushing the electronics constantly at their max. Sony quotes 115 minutes for video recording as a worst case, but I tended to get less. Remember, you can only record for 29+ minutes at a time. Sony's 3-hour specification for "continuous recording" seems to be for six presses of the record video button, but no other electronic actions taken (e.g. IS).  Video shooters especially should consider getting the VG-C3EM grip, which allows use of two batteries. Also note that you can power the camera via a micro USB cable, though this isn't a connection that is lock-down secure.
Buffer: We start getting into what I call the Sony Footnotes when we do continuous shooting. Yes, you can shoot at 10 fps with laggy feedback (and no blackout), but only 8 fps with live feedback (and minimal blackout). Yes, you can shoot at 10 fps, but the camera will drop to 12-bit capture if you shoot compressed raw. The alternative is to get far bigger files and 14-bit, but those bigger files can be an issue with the buffer.
Generally, uncompressed raw gives you under 30 frames with a state-of-the-art card in Slot 1 (UHS-II) and nothing in Slot 2. With some UHS-II cards I've seen even lower numbers than that. This starts to restrict the A7Rm3 as a true action camera. This is one of the reasons why I write that the Nikon D850 is the better all-around camera, by the way. You get smaller files than the A7Rm3 at the same settings (despite capturing more pixels) and at least 51 of them (you can also drop to 12-bit and get 170 on the Nikon, something that the A7Rm3 can't even match shooting JPEG).  
The good news is that the Mark III cameras are not really buffer-bound as were the earlier models, where you'd fill the buffer and then have to wait to do things even as simple as AF-On. 
Focus: While the current generation of Sony cameras all use variations of the same focus system, there are variations among them. This is clear to me between the A9 and the A7Rm3, a little less clear between the A7m3 and the A7Rm3.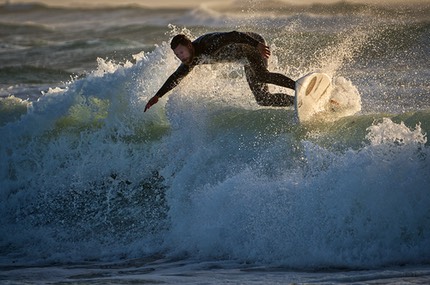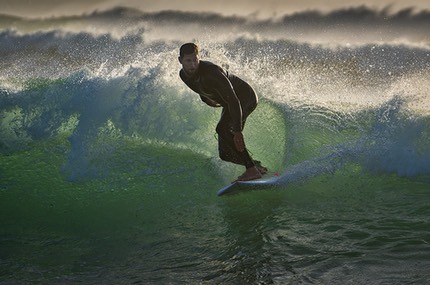 With the A9 I never saw the camera "bust the sequence" badly. By that, I mean that while tracking continuous, fast, and erratic motion, if the A9 lost focus it almost instantly regained it. This produces high hit rates virtually all the time. Not quite as good as my Nikon D5, but still very impressive for a mirrorless camera (best of the bunch). 
The A7Rm3 has busted the sequence a number of times on me (the A7m3 slightly less so). Even having now shot with the camera for over six months, I'm still not able to fully predict when this will happen, but it is annoying when it does. Coupled with the smallish buffer, this reduces my interest in using the A7Rm3 for action considerably. My Nikon D850 doesn't have either issue.
That said, there is one area where the Sony sometimes does better than the Nikon: faces and eyes. Note that I wrote "sometimes," not "often" or "always." I'm impressed with Sony's face and eye recognition capabilities, though I find that sometimes it detects the wrong eye. That's especially true when you're shooting bursts, as it seems that the eye detection is better for the first shot in a sequence than subsequent shots.
Note that eye recognition is always done for face detection if you're in Single Servo AF. In Continuous Servo AF you'll need to map a button to engage it. I'll say that face recognition is more reliable than eye recognition on the Mark III A7 models, and on the many pixels of the A7Rm3 missing the correct eye with a fast lens can mean you're going to see the focus plane is clearly in the wrong spot when you pixel peep. Still, it's useful and often produces great results. 
Image quality: I've written elsewhere that I believe that the D850 is the current high megapixel champ in terms of image quality. The A7Rm3 comes a very close second. Very close. But that's really only true for raw shooters if you shoot Uncompressed ARW, which produces much larger files than the Nikon does. 
The one place I'd say that this isn't true is when you start shooting at ridiculous ISO values. By "ridiculous" I mean you're using those values because you have no other choice in order to capture any image at all, and are willing to sacrifice all kinds of data integrity in order to get those images. The D850 shoots arguably better at low ISO, but the A7Rm3 doesn't suffer the dreaded magenta haze as early in the high ISO ramp as the D850 does. Moreover, it tends to retain edge integrity at the super high ISO values a bit better than the Nikon does. At the same time, though, I find a slight contrast build-up and color shift on the A7Rm3 by ISO 3200, which is a little earlier than the D850 manages.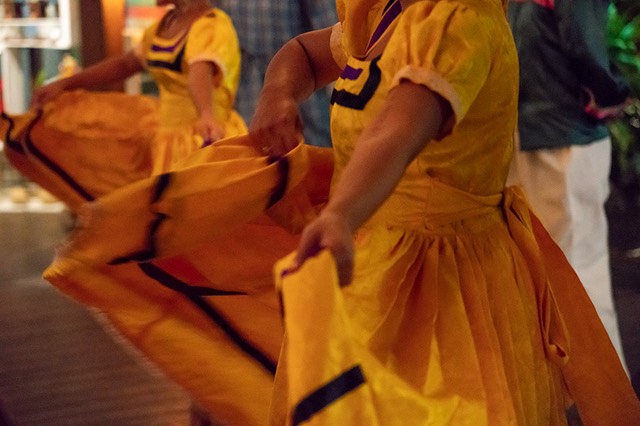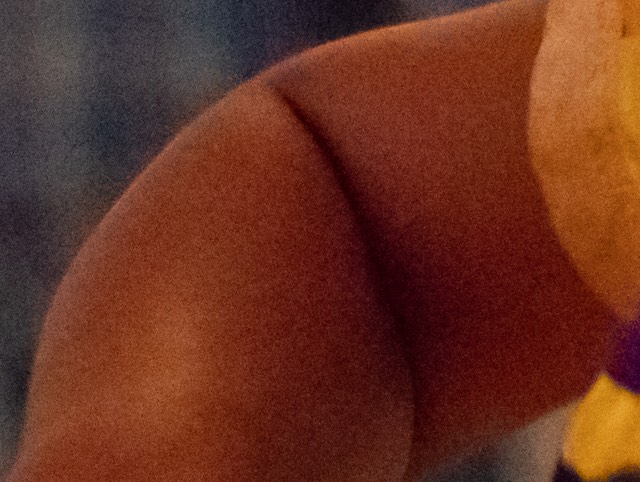 If I had to describe, say ISO 102,400 on the two cameras, the D850 just totally falls apart at the pixel level and starts getting a haze that's unremovable. The A7Rm3 seems to glob pixels together—almost as if the underlying neighbor pixels have some electronic relationship—and just builds more color noise.
But you're not likely to go there. The A7m3 or A9 might be a better camera for you shooting at the ridiculous ISO values (as would be the very likely soon-to-arrive A7Sm3). 
In the base ISO to ISO 3200 range, there's little to differentiate the A7Rm3 and the D850. I'd say that the D850 raw files are a little bit better, the A7Rm3 JPEG files look a little better in edge acuity due to a push in sharpness. The D850's white balance seems more refined than Sony's, but again, we're picking at pixels here. In many of my Imatest shots, I'm often finding what could be rounding and sampling errors in terms of the difference between the two cameras in the base to ISO 3200 range. 
Still, I'll stick with what I've written above, as I've now shot the Nikon D850 and Sony A7Rm3 side-by-side for half a year, and have run both JPEG and raw conversions of thousands of images. If I had to choose I'd pick the Nikon D850 for any reasonable ISO usage. Coupled with the buffer and card speed differences, that makes the D850 a bit more versatile. 
One difference the A7Rm3 has is the ability to "pixel shift" and take four images that can be combined into one. I've seen people rave over this as if it were something Sony invented—sorry, but Olympus was there first—and that it provides something we can't do in any other way. 
Frankly, the pixel shift features on the cameras that have them haven't really proven to be all that useful to me. One problem is that they pretty much require a completely static subject in order to work without producing artifacts. But if your subject is static you could just take four consecutive shots with any camera, stack them, and get most of the benefits that pixel shift provides (see this article).
Those benefits would mostly be noise reduction and some acuity improvement. The one thing that pixel shift does seem to do better than just stacking images is to reduce false color and moire on fine detail. 
I had higher hopes for pixel shift than I actually achieved in the field. First, as I noted in the handling section, it's a pain in the butt in terms of workflow. Second, it just doesn't provide benefits well beyond what I can do with other cameras with traditional methods. Others have used words such as "lifts a veil" or "pops"—a few have incorrectly stated that it increases resolution 4x—but what I see is simply better edge definition and lower noise propagation. It certainly makes a difference capturing the brush strokes clearly in my mom's paintings, but there are other ways I can achieve that same impact. 
Overall, the option is nice to have, even if it is a bit of a pain in workflow. By all means experiment with Pixel Shift if you're a still life shooter or have landscapes with no movement in them. However, I think you'll find the gains are more minimal than you're imagining. And if you're not a pixel peeper, you might not see them at all.
Final Words
There's little doubt in my mind that the A7Rm3 is a great camera. Sony has improved the previous model in so many useful ways that the A7R now stands up against many DSLRs. Indeed, I am quite serious when I write that the A7Rm3 is probably the second best all-around camera you can buy (the Nikon D850 DSLR being the best). 
Coupled with the recent surge in FE lenses that are available, the A7Rm3 is an excellent camera choice for someone mostly shooting in the 12-200mm focal range, and for most photographic tasks. I've shot sports with it, I've shot events with it, I've shot landscapes with it, I've shot wildlife with it...well, the list goes on pretty much ad infinitum. And that's what I mean by "all-around camera." One that can be pressed against any shooting task and not come up wanting. 
We have several comparos to make to fully understand what I've written in the two paragraphs above:
A7Rm3 versus A7m3 — While both are of the same generation with many of the same features and essentially identical handling, the A7Rm3 is my choice for still shooting (the A7m3 gets my slight nod for people who do more videography). It's tough to describe why, but that 42mp versus 24mp thing gives you much more flexibility in what you can shoot well, as well as some ability to crop when you just don't have the lens you need. Small things like the better EVF also start to add up, as well. Of course, you're paying US$1200 more for all these "little things." The value shopper is just going to buy the A7m3. The need-as-much-as-possible shopper who wants the best all-around camera is going to buy the A7Rm3.
A7Rm3 versus A7Rm2 — Even though there really aren't any important image quality differences in the sensors, we get big improvements in focus performance (and control), camera handling, battery life, and more in this new generation. Plus we get modest-but-useful improvements in things like the on-sensor image stabilization, which is better by a stop (CIPA). These things all add up the same way they added up when Nikon updated the D800 to the D810 and then to the D850: the totality of small and large changes make the A7Rm3 feel like and shoot like a better camera than the A7Rm2, no doubt at all. Of course, like the A7m3, you can get the A7Rm2 for US$1200 less than the A7Rm3, as Sony is still selling it, though now at a discount. Do you opt for the A7Rm2? No. The A7m3 is the better choice at that lower price, with the one exception being someone who only shoots landscapes or something that is relatively still and which requires lots of pixels.
A7Rm3 versus D850 — These products are priced within US$100 of each other (at least here in the US). Both are at the top of their game (high megapixel mirrorless, high megapixel DSLR). The reason you choose the Nikon DSLR are two-fold: better ergonomics and more lens choice. Nikon has a clear advantage in both areas. That you get a few more pixels and ever so slight low ISO image quality advantages with the D850 really doesn't play into the choice, as those things are minimal in nature. That the A7Rm3 body is smaller and lighter doesn't really play as much of an advantage, either, especially when you consider that it isn't nearly as well sealed against water. Plus once you put the "serious" lenses on these cameras, the weight of the body becomes not nearly as much a factor. 
A7Rm3 versus Canon 5D models — I'd have to give the nod to the Sony here, though I'll admit I have less experience with the 5Dm4 and 5Ds/r models than I'd like in making that judgment. Still, dynamic range on the A7Rm3 is clearly better, making for better shadow recovery. Canon seems to be lagging a bit behind both Nikon and Sony in terms of sensor capability. Let's hope they catch up soon.
A7Rm3 versus Medium Format cameras — While the Fujifilm GFS50 and Hasselblad X1D are both relatively small for medium format cameras and feature a great 50mp Sony Exmor sensor, I think the real issue here is whether you're looking for best possible data acquisition (particularly at base ISO) or versatility. With the right lenses at base ISO, both the Nikon D850 and the Sony A7Rm3 do a reasonable job of holding their own against those bigger sensor cameras. Enough so that I'd say you have to really want that MF look to justify the extra bucks to go to MF. The MF cameras don't come close to being the best "all around" cameras in my book, which should tell you all you need to know.
One last point: with the USB 3.1C speeds for tethering coupled with the face/eye focus features, the Sony A7Rm3 makes for a pretty darned good studio camera. I'll bet we'll be finding quite a few Sony's in the pro studios in the near future.
A fellow Nikon pro recently tried a Sony m3 generation body and wrote me that it "proves Sony can play in the big leagues with Canon and Nikon." I agree. Sony has made quick and clear strides in making near DSLR-equivalent pro cameras, only as mirrorless models. 
I'd caution people to think that Sony has "toppled" the Canikon duopoly, though. We haven't heard the last from Canon and Nikon, and Sony has had the more recent camera introductions and thus most of the Internet buzz in the recent months. Plus Sony really has a long ways to go to equal the ergonomics of the DSLRs. The fanboys will dispute that as loud as they can, but Sony simply doesn't have the many decade refinement you see in the DSLRs.
What I do believe is that Canon, Nikon, and Sony currently make the best high-enthusiast—prosumer if you want to call it that—cameras. The Nikon D850 is the best of that bunch, with the Sony A7Rm3 probably the next best. Both are in my gear closet because of that. 
Recommended (2017, 2018, 2019, 2020) Consider the A7R Mark IV instead. Also strongly consider the A7 Mark IV.
Support this site by purchasing from the following advertiser: