Last month I wrote about how mirrorless looked like it was missing the mark in taking over from DSLR sales. Some of you questioned that thought, so I took the time to do a little extra data charting. Here's how 2012 looks so far in unit volume (CIPA data):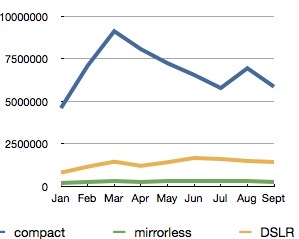 Note how flat the mirrorless sales look. DSLR sales are slightly up overall. ("Sales" in this context means shipments from camera companies, not necessarily consumer purchases; the data I have for consumer purchases but don't have permission to publish suggests something similar. As does current BCN consumer data out of Japan. Generally, when multiple data sets correlate that well, it's likely the observed trend is correct.) 
The problem, of course, is that DSLR sales are dominated by two companies: Canon and Nikon. Compact sales are dominated by three companies: Canon, Nikon, and Sony. Thus, a lot of the hopes of the remaining companies lie in mirrorless ramping up and stealing market. And that's where that flatness in the mirrorless shipments is problematic. The implication is that Fujifilm, Olympus, and Panasonic, even with Nikon and Sony's help, aren't cutting into DSLR sales. That's important, because the average selling price and gross profit margin on the DSLRs are the highest of all cameras, overall. 
This is actually part of a big debate between me and other camera market analysts a while back, which prompted my original article. The compelling questions moving forward are:
How big is the camera market in the future?
How is that market split up between compact, mirrorless, and DSLR?
Who will do well in that future market?
My contention has been that—without any major unanticipated product disruptions—the answers are:
Smaller.
Fewer compacts, slightly more mirrorless, slightly more DSLRs.
Canon and Nikon, and to a lesser degree Sony.