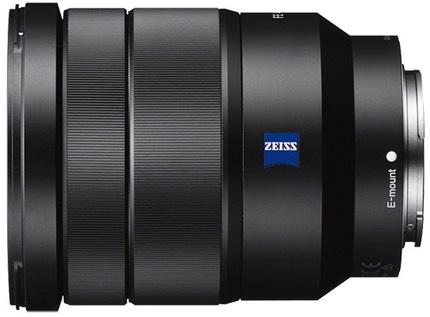 Sony announced two new FE-mount lenses at Photokina, the 28-135mm f/4 for video cameras and the Sony/Zeiss 16-35mm f/4. The US$1400 wide angle zoom (above) is the lens most A7s, A7, and A7r users have been waiting for, as it now gives the FE user 24-200mm f/4 options through three basic zooms. In other words, the A7 series now has a base set of lenses, so now what happens next?
In a word: more primes. At their press conference at Photokina Sony outlined a plan to eventually get the FE mount to 20 lenses in 2016, with three new primes and one zoom by March 2015. The new primes are a 28mm f/2 (with two adapters to make it a 16mm fisheye and 21mm wide angle), a Zeiss supplied 35mm f/1.4, and a 90mm f/2.8 Macro OSS. The new zoom is a convenience super zoom, the 24-240mm f/3.5-6.3 OSS. They also hinted another f/1.4 prime, I think a Zeiss supplied 85mm, but I'm not sure I was reading the hints right. 
I do admire marketing ingenuity. Sony listed "13 FE lenses" under 2014. Uh, not quite. While they've announced 13 lenses, we'll only be able to buy 7 by the end of the year. The other 6 come in February and March of 2015, and two of those are converters ;~). I've updated my general FE-mount lens page and roadmap.
Along with the lenses, a new HVL-32M flash, RMT-VP1K wireless remote controller kit, XLR-K2M XLR audio adapter kit, and LCS-PSC7 system bag were announced.
Support this site by purchasing at this advertiser: